I will get to the give-a-way in a few minutes, but let me work through a bit here first. Hang tight because you will really like this give-a-way!! I promise!!
After ignoring our storage unit for almost 7 years, YES! 7 YEARS! Don and I spent the day going through it all, donating old furniture and clothes, looking at old pictures, reading old receipts, smiling at old greeting cards, and breaking down old boxes. Yeah, it was all OLD! Some of it was old as in vintage. Some was old as in valuable. Lots of it was old as in sentimental. But there was a whole lot of it that caused us to wonder not only why we had kept it all these years, but furthermore, why we had moved it across the country and back again, why we had paid storage fees to keep it. I mean, it is all just stuff. STUFF!
But it is our stuff.
After all these years, we felt that God was leading us to give away a lot of the things we had been holding on to. This was not just a physical thing. It was very much an emotional and spiritual exercise. I cried. You see, we so badly want to have a home of our own again. And for me, a woman, a mama, a wife, a "nester", these things represented my own "nest".
Hebrews 12:1 says this:
1
We are surrounded by a great cloud of people whose lives tell us what faith means. So let us run the race that is before us and never give up. We should remove from our lives anything that would get in the way and the sin that so easily holds us back.
So, was I sinning by holding on to all that stuff? Maybe. Maybe not. But it was doing no good in that storage unit. Will we have our own home again someday? I sure hope so. Oh Please GOD!!! But until that time, we need to keep working toward the goal. And the goal for this time in my life is becoming clearer. And for that I am grateful. Things are not getting any easier for us, and we are still very much having to lean on our faith. But I do believe that there were things in that storage unit that I was holding onto that were holding me back from fully depending on God. They were mine and I did not want to give them up. NO WAY!
Did I give everything up? Not yet. Will I? I don't know. Am I supposed to? I don't yet know that either.
Do you want to know what it was that was so hard for me to relinquish? It was a sofa, chair and ottoman, upholstered in navy and white ticking stripe by Lee Industries in 1989. They were old, dirty, torn, and not in good shape. But these items of furniture were the first real items Don and I bought as a couple. I had been working as an interior designer in an upscale store in the Bay Area, and these pieces represented our first real home as a couple. As Don and I, and later India, moved from place to place in the ministry, these pieces represented our "nest". What I should have realized and embraced, was that as long as we were together, we were "home". But still, I loved those pieces.
So, God spoke to me one night, in my tears of wondering if we would ever come out of this struggle. He told me to relinquish those old, torn, broken pieces of furniture. That was a few months ago. It took until today for me to do it. I do not yet feel relief that I did it. Don was very supportive. We were able to move our things into a much smaller storage unit today. When we finally do move into our own place again, we will know what is in every box and tub in that unit.
And I do believe that since God is the giver of all things, and He wants to give His children good gifts, that someday I will be able to buy a new set of furniture. And it will be exactly what I am meant to have, given to me by a Heavenly Father who loves me more than anyone can love me. Because He knows me the best.And just like my old, broken furniture, He wants me to give Him all the old, broken things in my life so that He can replace those things with what is best for me, whatever that may be.




Ok..........enough of that for now!!!





So I have a few fun pics to show.





First of all, here is another of my tester versions of

Olabehe's Kirstin skirt. I used the pattern as a jumping off point and added a fun element. I channel ruched the overskirt with ribbon so that it could be pulled up to create a different look.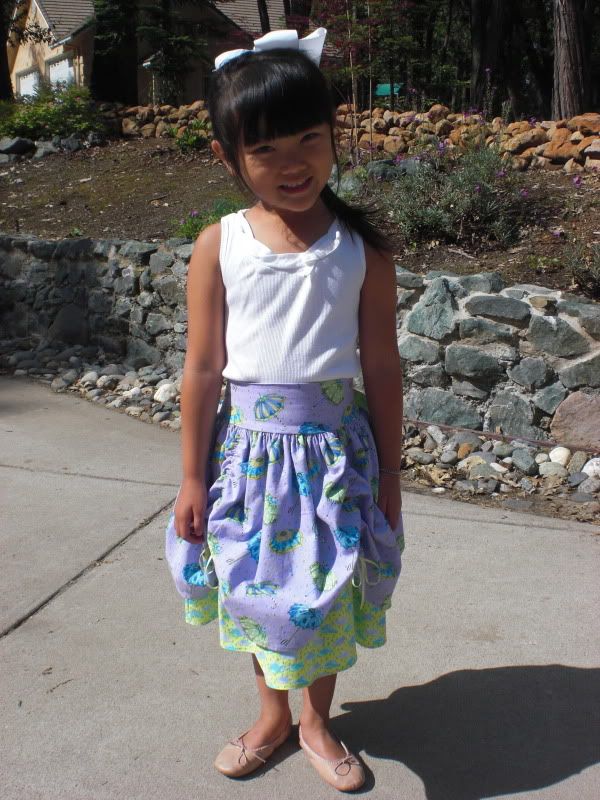 Ahnalin loves it! Dawn (the designer) loved it too but was concerned that people would wonder how I did it. Well, I do believe that I will work up a tutorial for this, so that once she releases the pattern, you can copy the look for yourself. So, hold tight and check back for the tutorial in the near future.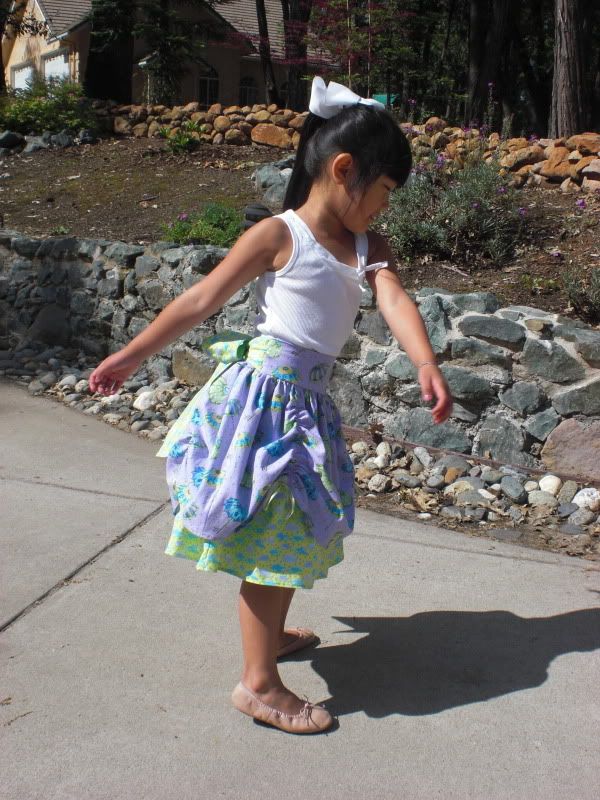 In addition to this, I have been working on my sewing area. My wonderful husband and my father-in-law worked together to build me shelves for some of my fabric and patterns.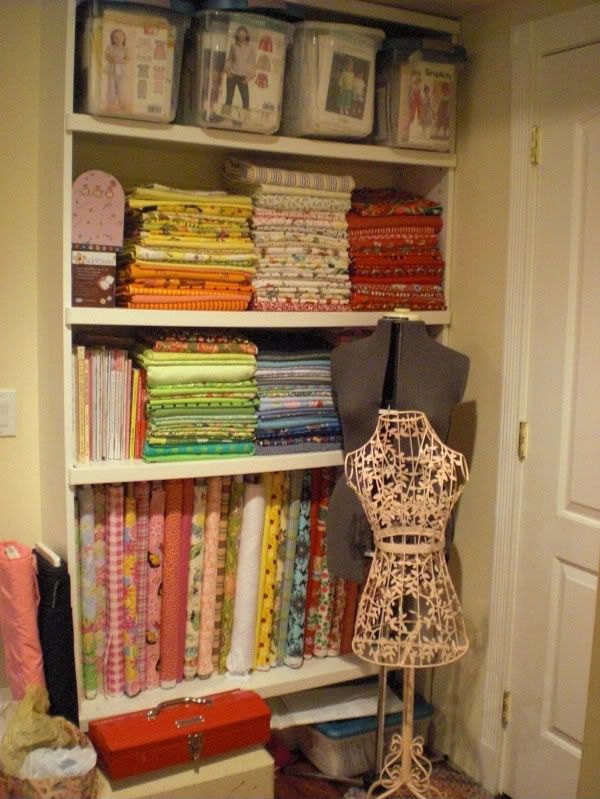 Yes, even though we live with my inlaws, I am so blessed to have my own little spot. I am by no means done with the organization of my little area, but it is getting better by the minute. However, while working in the storage unit today, I discovered even more thread, patterns, fabric and notions that had been stashed away all these years. I do not have room for it all. So I have to start paring it down too. NO!!! But I must. So, I will go through that stuff, organize what I can, and give the rest away. That will come soon.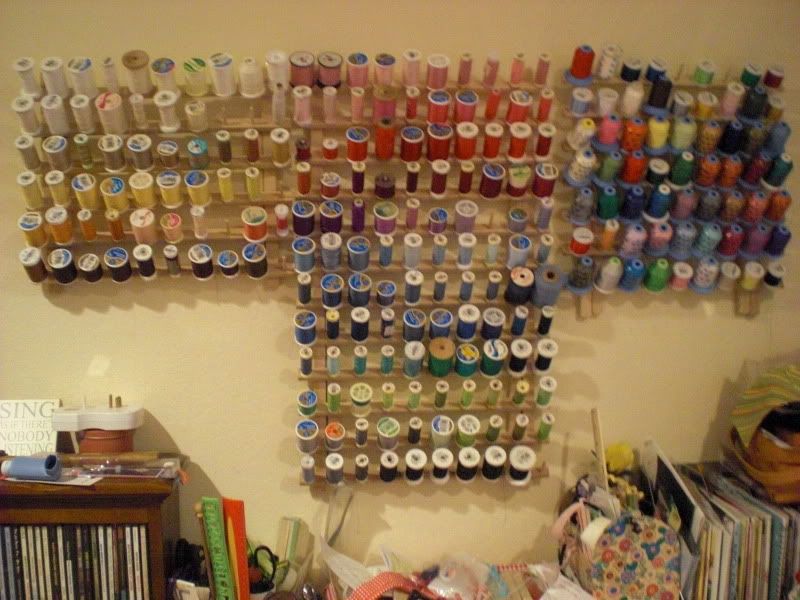 This does not even show my serger cones!


But I do believe that I will never have to buy thread again as long as I live........or at least for a few months.




I have not even brought over the 7 boxes of patterns I found. The crazy thing is that now, between designing my own patterns, and testing for other designers, I rarely use other patterns!

Here is the work in progress.....that is my sewing area that is starting to come together.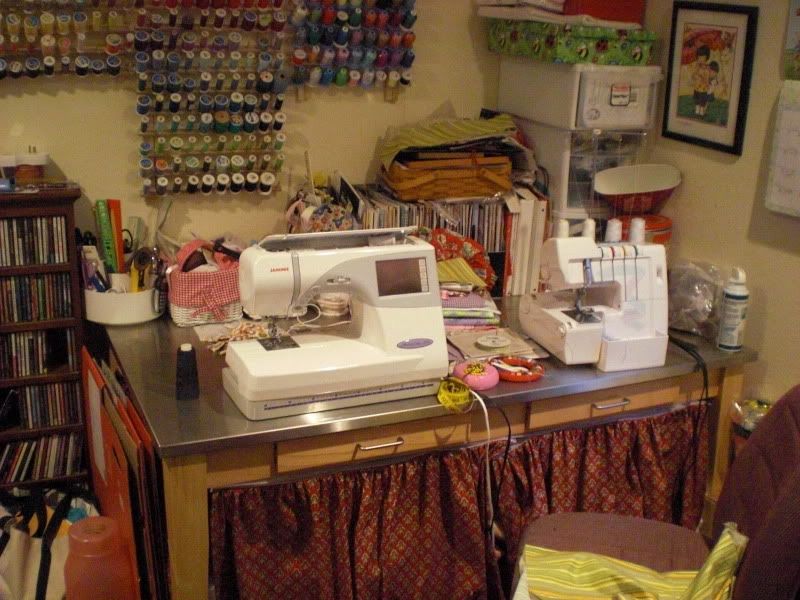 At least I can sew here now, instead of on the kitchen table! That means my mess is at least a little more contained to the joy of those around me! Under this table, there are stacks and stacks of fabric that are hidden by the fabric curtains. There is also a pie safe filled with fabric, and that does not include the fabric in the storage unit still! YIKES!

India and Ahnalin are enjoying the box of dress-ups I found in the storage unit. India has been begging us to find them for years. Sadly, they were in the very back of the unit!


India has grown out of most of them by now, but she loved dressing up her sister this afternoon.




Now........if you got through allllllll that.......
I will tell you about my first ever GIVE-A-WAY!!!! WOOHOO!!!!
I am giving away two things here.
First, I am offering a "Side Winder" portable bobbin winder. This is such a cool thing! I have two of them, and one is unopened. So, one of you awesome, amazing and super cool people will be the lucky recipient of this neato thing!



Second, you all know that my hot, rockin' hubby is an awesome guitar player, right? Well, he is the lead guitar player for the up and coming country group, the Denny Russell Band So, I am giving away one of their cds! They have recently been getting radio play both here in the US and in France and you will hear much more of them in the future. And you can say you heard it here first!




So, leave me a comment on this post if you want to be entered. And if you want an extra chance, become a "follower" of my blog. As a mom, I am always telling my girls to be leaders, not followers, but it is ok to be a follower here, ok? If you are already a follower, tell me that and you will get two chances.

I will draw the winners on Wednesday, June 17, which also happens to be my Daddy's birthday.

Thank you for reading this far. I so appreciate you all!

Sivje