So, first up, and out order of the title, is the Bluebird of Happiness.
So, remember this post? http://goosegirlsews.blogspot.com/2009/03/tea-time-dress-for-fabrics-on-mill-st.html (Sorry, I still don't know how to do links correctly.)
Well Ahnalin wants this dress sooooo bad! But I made it in the size that will fit her next summer so that Fabrics on Mill St. can keep it on display as long as they need it. But Ahnalin has been mooning over the little scraps of fabric, begging me to make her something. And like India, she has gotten into the fun of designing her clothing. So, she presented me with the scraps and asked for a "Skirt she could hang upside down in."
She is quite the queen of the monkey bars, so she knows of which she speaks! We have yet to try them out on the monkey bars though, since India is sick and I am keeping Ahnalin home as well....... (more on this later).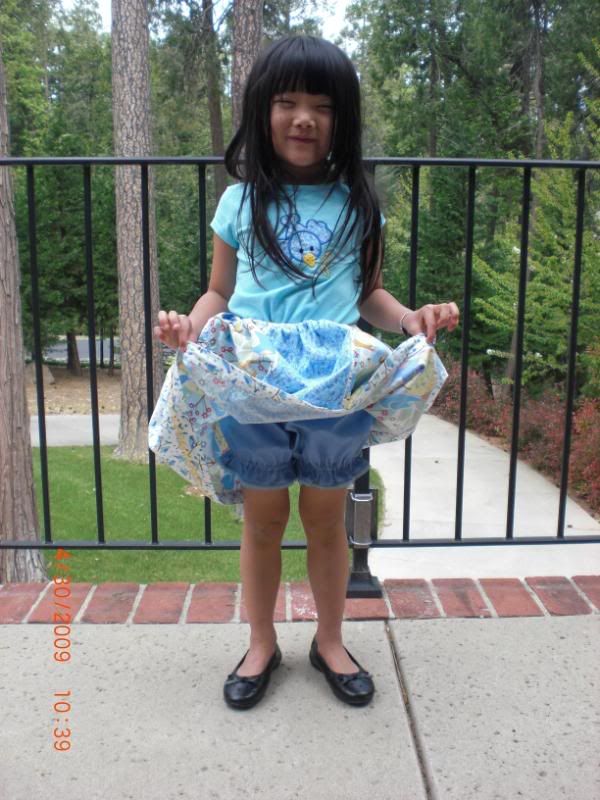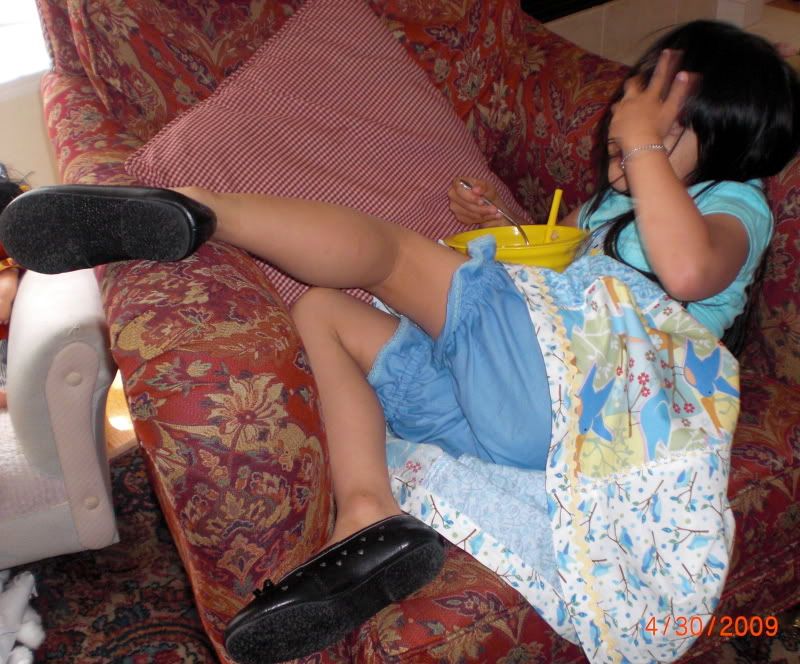 See, she is not always ladylike.
Oh, and the top is just a cheapo RTW that I appliqued with a bluebird from Designs by Juju. I love her designs!
If you look closely, you can see the bias strips of the fabric coordinates in between the fabric blocks. And I was able to use some of my vintage lace on the edges of the bloomers and vintage rickrack on the skirt. I love digging through my treasures to embellish pretty clothes.
When Ahnalin was little I used to make bloomers for all of her dresses. And she has such a "tiney hiney" that I had to draft them to fit her. So I just pulled out that bloomer pattern and devised a skirt out of the scraps, and attached them at the waistband. I do see many more of these little skirts in our future.
Next up....The Froggies!
We have 6 froggies in our pond and they are LOUD! However I am having problems loading the videos. I will keep trying.
And lastly, India is sick again. I finally heard from the doctors office and it is "just a virus" whatever that means. This girl has been sick since Monday, no voice, bad headache, totally pale and listless, nausea and vomiting, and achiness. But her cultures came back clear. At least we are not dealing with swine flu. It is most likely just a different flu virus. She is on Tamiflu and should start to feel better soon. But this girl has missed more school this year than any other year, and really needs prayer. She was even too sick to perform on Tuesday night, and that is saying something. So please pray that my India gets well.
Let me know what you think of Ahnalin's new skirt, ok? Thanks!