To all you mothers, first-mothers, grandmothers, great grandmothers, step-mothers, foster mothers, mother "figures", and hopeful mothers, I want to say "Happy Mother's Day! You are loved. You are blessed. You are special.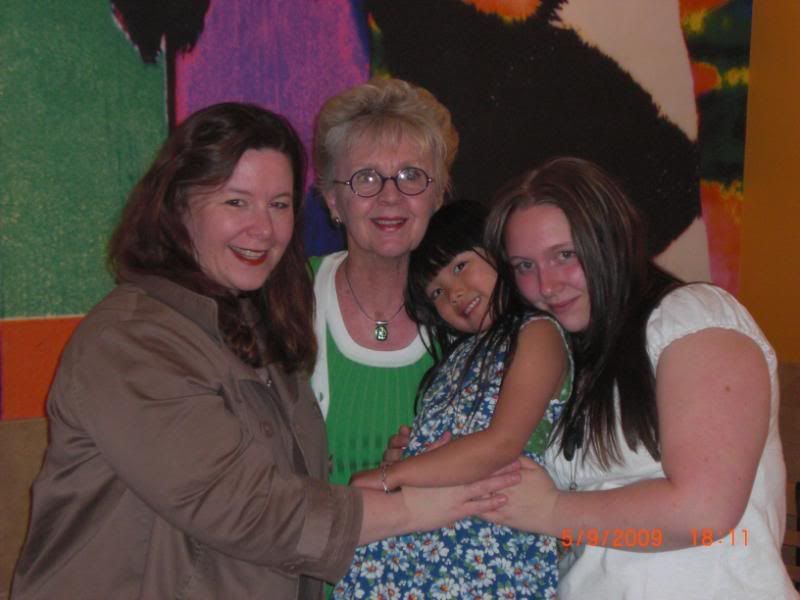 I am so blessed to be the mother of two precious, daughters. My road to parenting has not been easy, and I do not take for granted the gift of my children. Someday, in heaven, I hope to meet the babies who did not live long enough to be born to me here on Earth.I am so grateful that my precious India, was my first baby. I love her with all my heart, even when she makes me completely crazy. She is beautiful, talented, well spoken, funny, and brave. What a gift she is.
And someday, oh I pray, that I get to meet the mother who placed my youngest daughter, Ahnalin, to be found, and eventually placed in my arms. If I could meet her, I would tell her how grateful I am to me a mother to our daughter. I know she must long for this precious child, in her heart, even if she is not able to long for her outwardly. I am so grateful that she chose to continue her pregnancy, when ending it would have been the much easier option in the country where she lives. I am so grateful for all the people who prayed our precious Ahnalin into our lives. She is a miracle!
I am blessed to be the only daughter of my beautiful mother, Barbara Jean. She is amazing! She has boundless energy, and a deep love for people. She always sees the best in people and loves them. She reflects Jesus every day. She is the most generous woman I have ever met. It used to drive me crazy, as a child, when I would say something unkind about a person, and her response would be "They need love, let's invite them to lunch!" YIKES! I learned quick not to be catty, and to see the heart in other people. My daddy was a pastor for all my growing up years. My parents opened our home up many times a week to just live out their faith in front of people, sharing their lives, their food, and the love of Jesus. I never saw my mother be uncomfortable with someone, no matter how they dressed, how they smelled, or how they spoke. She just loved them. She still does. She is a loving, committed wife, a dear friend, and an amazing grandmother. Oh, and one more thing.....when playing barbies with India, at the age of about 5 or 6, she taught her to play "Get your hands off my man!" Yeah, like most girls, India had several female dolls, but only one male doll, "Beast" (AKA Prince Eric). So, my mother taught India that useful phrase that will probably be used at least once in her life! Thanks mom! Eek!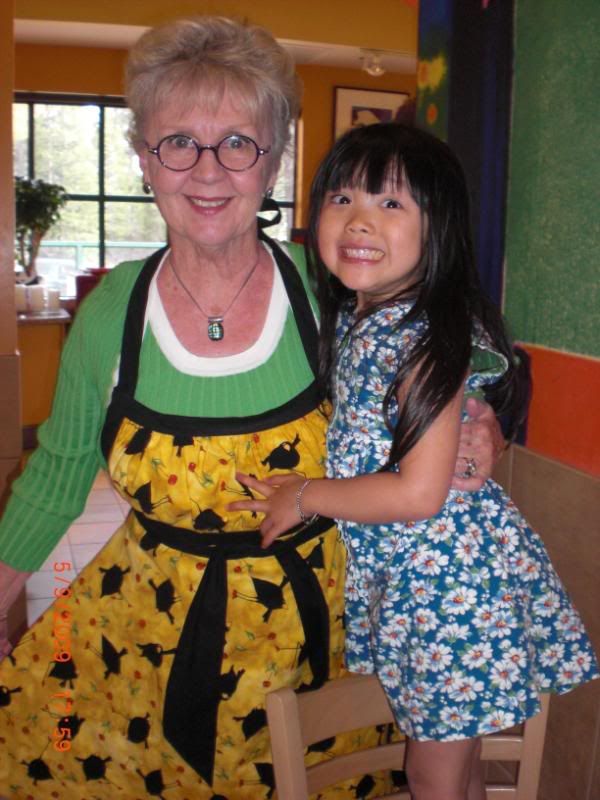 I am also blessed to be the daughter-in-law to my precious hubby's mom, Lyn. I know how blessed I am! I have many friends who do not enjoy good relationships with their MILs, and I get to say that mine is one of my dearest friends. We talk daily, of course, because we live with them. But more than that, we truly love and enjoy each other. Sometimes, my poor hubby, has to deal with both his wife and his mom being on the same side of issues such as haircuts, and slightly trashy band names, but for the most part, we do pretty well with boundaries. Lyn, who I call "Mum" in deference to the fact that we are both pretty committed to our love of all things British, also lives her relationship with Jesus out in front of me, daily. She is another ear for my daughters when I am busy, or just not seeing things the same way. She will always read stories, or play dolls with my little one, even when she is in pain.
Nana is actually wearing the apron I made for my mom, but I wanted to get it on camera before it left the house. And somehow, I cut my nephew in half while taking this picture. Sorry T.
Yes, I am blessed and I know it.
Today, I am grateful to be singing a great song in the services at church. The song, "Generations" by Sara Groves, talks about how, the choices I make, and the way I live my life, will have lasting effect on the generations to come. That is a lot of pressure, but also a gift.
The lines "Generations will reap what I sew, I can pass on a curse or a blessing, to those I will never know," have such impact. The choices I make, whether I choose to live a live of faith and trust, whether I choose to control my temper and tongue, whether I choose to love my husband even when I disagree with some decision or statement, whether I choose fear or peace, will have an impact on how my daughters make the same choices. And that will impact their children, and so on and so on. Wow! That makes me really want to see God's word, and listen to the women ( and men too), in my life who help me with those choices.
As a seamstress, these lines have a different meaning as well. I love to sew a quality garment. I learned to sew, primarily, from my mother. She is so creative, and fearless. She used to sew all my dad's suits. She would look at something she wanted, and copy it, out of it seamed, a half yard remnant. And now I sew. I hope that the items I sew will be passed down to younger generations. I hope that the love of creating is passed down. I hope the joy in a job well done, is a gift I give my children.
This leads me to the gifts I made to give to my mother and my mother-in-law. Yes, according to Yahoo, the gift I chose to make for them is a "reminder of the hard work of mothering". I disagree. Mothering is hard work! But you may as well have something pretty to wear while you are doing the work! So I made them aprons. I love this pattern, called "Emmeline" by Sew Liberated. I have the link to the designer's blog in my blogroll. I will definitely be making more of this pattern. It is fabulous and so pretty on. For my mother, and sister-in-law Chelle, who is celebrating her first Mother's Day, I chose fabric that has crows on it. Anyone know why? heehee! For my MIL, I chose fabric with teacups and cupcakes. All of these fabrics were in my mighty stash, which never seems to get smaller.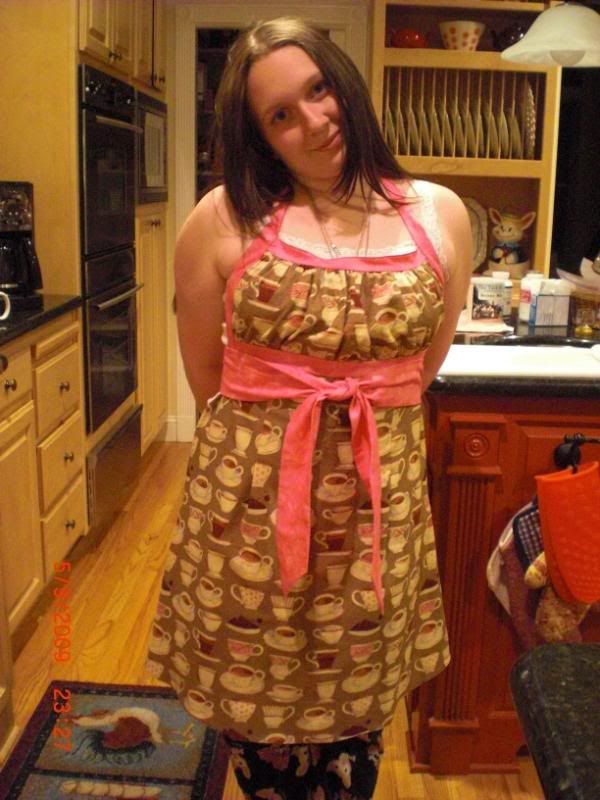 Just to confuse you more, this is India wearing Nana's apron!
I had better get to bed if I want to have any voice at all to sing. But I want to say to all of you, I pray that God blesses you with a very special Mother's Day. And to those women out there who long to be mothers, God sees your heart and knows your desires. He can take your hurt, disappointment and anger. He loves you and wants you to have someone to love in return. I pray you have children to love soon. To those of you who have made the very difficult decision to place your children in the arms of others to love and raise, God also sees your hurt and wants to minister to you. You are loved and cherished. And I pray that someday your children will know and honor you. All of you women have the opportunity to affect the generations to come. Make the decisions in your life with the knowledge that you are loved.
In His Grace,
Sivje