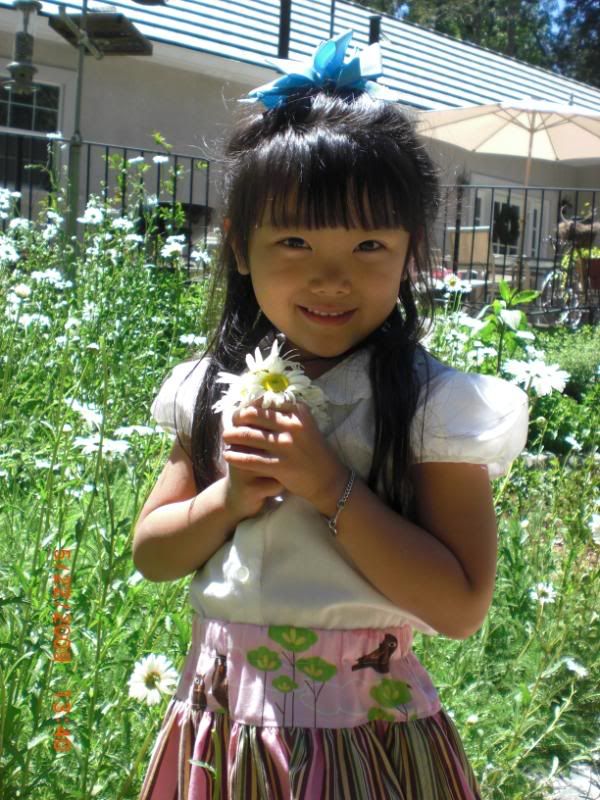 This last week I have been busy sewing lots of gifts as well as testing out Wondermommy's new "Skants" pattern. This is just a darling and very versatile pattern. I sewed up the Skants as well as a pair of capris using the pattern. The pattern comes as an e-book so it is a download and prints off your own printer. There is a skirt, pant, capri, shorts and "Skants" pattern, so you have lots of great things to try.
I am still not sure how to do the link thing within a post. I keep trying with the various tools on blogger but I am not figuring it out. If anyone wants to give me any tips, I am open! PLEASE!!!
But in the meantime, I have a blog button for Wondermommy to the right hand side, so if you want to get your hands on this great pattern, click on the button and it will take to right there.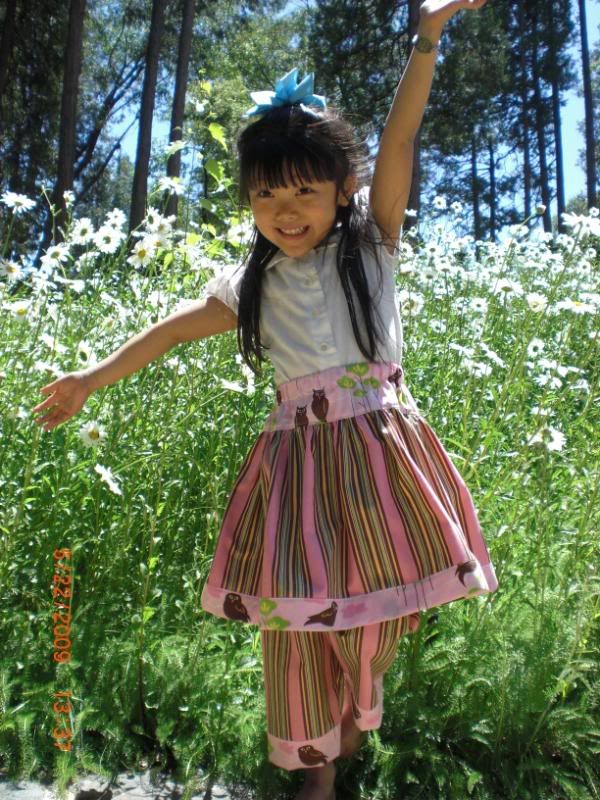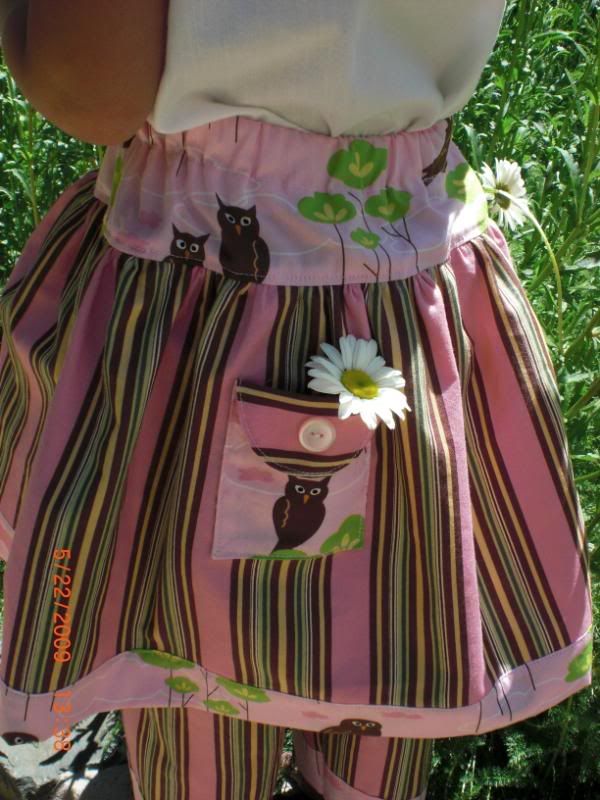 Ahnalin loves her daisies so she had to put one in her convenient back pocket.
These are little capris made from the same pattern. I love that they take so little fabric and go together quickly. I did most of the sewing on my serger, and just topstitching on my regular machine. Super fast and easy peasy!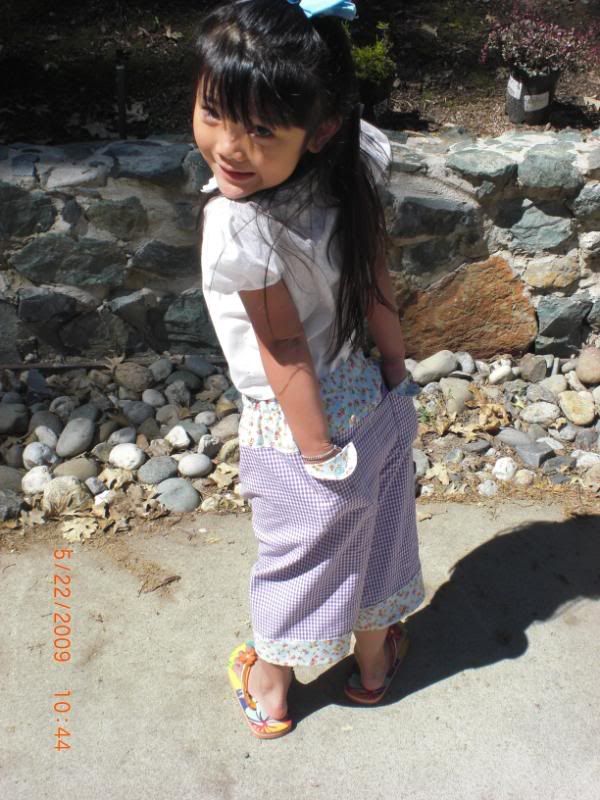 More back pockets for my girly! I can hardly wait to see how many rocks she collects in these!
Thank you to Mellissa for allowing me to test this fabulous pattern!
In addition to the Skants pattern testing, I had several gifts to make this last week. A dear friend of mine and fellow vocalist ( who is super gifted and amazing, by the way!) is having her first baby in a month. I have been hounding this girl to have a baby for as long as I have known her. And just to spite me ( not really, but I am saying it anyway!) she and her hubby have chosen to wait until the birth to find out who this baby is. So, no hints as to boy or girl! This is soooo frustrating for a girl who loves to sew! So I had to figure out something to make that was not totally boy or girl. So...I made a "Minky Monkey" blanket. OOOOh it was so soft, I had a hard time parting with it. I used this super neat rayon gross grain ribbon as the binding and I am now officially crazy for the stuff. It is so much easier to work with than bias tape and looks so pretty and finished. Oh, and the monkeys are out of Moda's brushed cotton. Super cozy! For some stupid reason, the photo is sideways, though I have edited it to be right side up. Really, I am not computer savvy. Thank God I can sew, cook and sing. Otherwise I would have no skills at all!
The same day as the shower, Ahnalin was invited to a little friend's birthday party. Her friend is a girly girl whose favorite color is pink. This I can handle. Oh, and have I mentioned previously that Ahnalin tells all of her friends that I will sew their birthday presents? Yeah. Oh well, more fun for me and she gets bragging rights.
Ahnalin chose a pillowcase dress for her friend and I loved her fabric choices. I thought about monogramming the dress but literally ran out of time. Still cute though.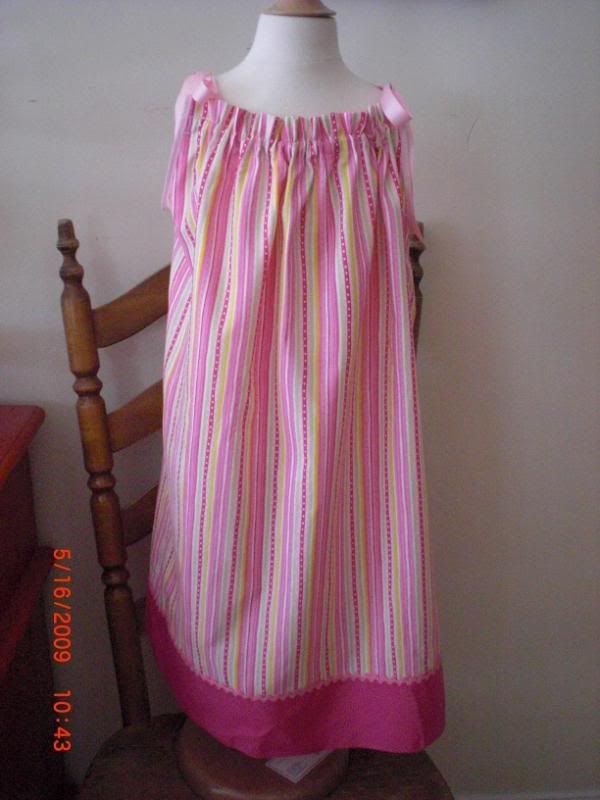 Sorry it looks crooked. Did I also mention that I am "not-crooked-bow-tying impaired"?
And the last project I made this week was a swim bag for my cute mother-in-law Lyn, for her birthday. I made this out of the vinyl coated Moda "Dottie" and a remnant from my stash for lining. I love this bag. No pattern, I just winged it, and am really pleased with the results. I thought of putting in a zipper, but went with a flap and magnet clasp instead. I love it! Now I want one for me!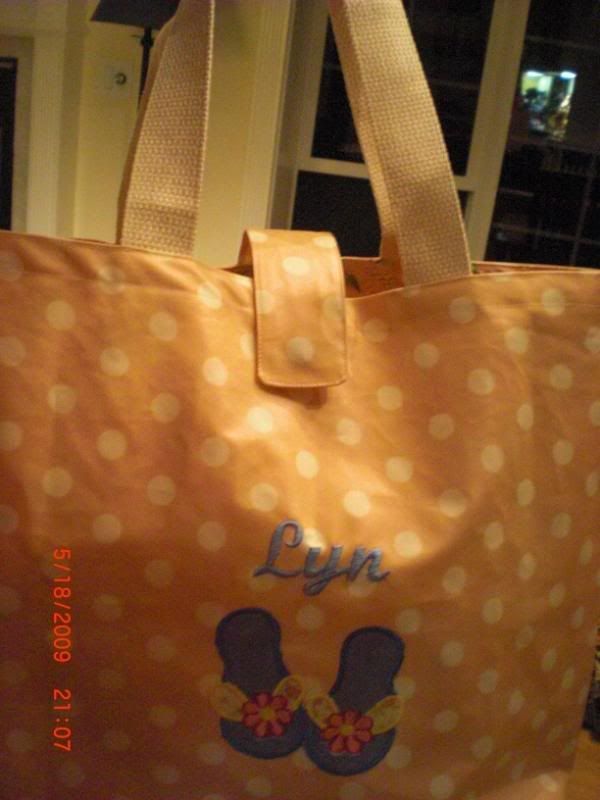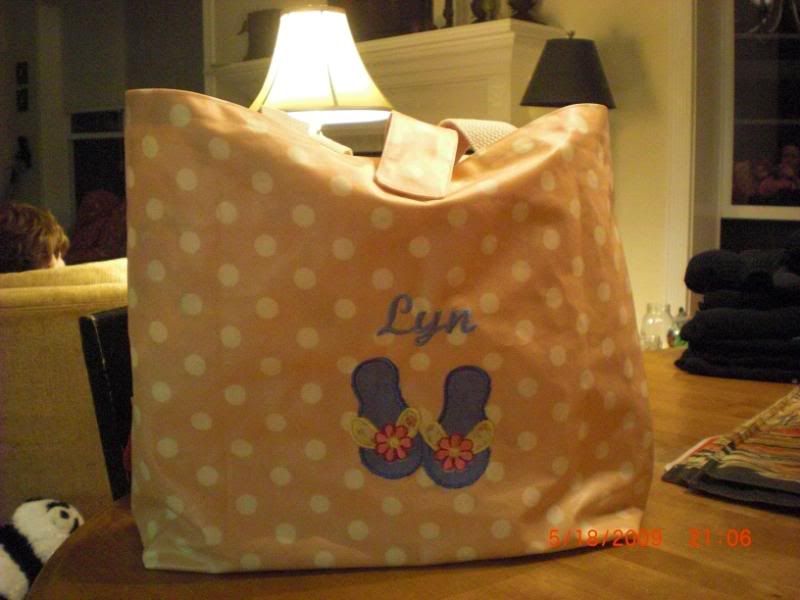 And last but not least, two little happy things that I did not make. The Creator knows how much I love cherries and daisies and blessed me with both today. I love these little "kisses from heaven".
Don't these gorgeous cherries look like two little hearts? They were almost too cute to eat.....almost. Alas, I ate them anyway. And boy were they yummy!
And I was presented with this little bouquet today from Ahnalin. So sweet!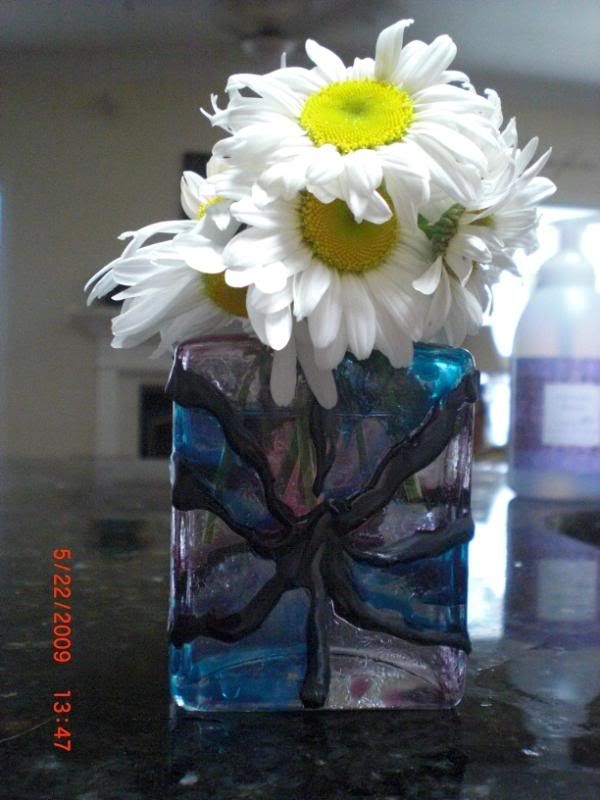 India had made the little vase from a craft kit years ago, and Ahnalin discovered it again, feeling it was just the right size.
I pray you all have a beautiful weekend. Leave me a comment and let me know you stopped by!