Here are some pics of one of the samples for the first draft of the pattern. So far it is about half written, and all the photos are done. I got some great feedback and decided to make the pattern sizing 6 months through size 8 instead of size 6. I am excited about the interest in the larger size!
Have I explained the reason behind the name? Ahnalin was born in China in the year of the Monkey. She LOVES the monkey bars at the park. She judges the worthiness of any park based on the presence or absence of monkey bars. Monkey bars are the reason for the bloomers, as she loves to hang upside down. So, she came up with the name of the
"Monkey Girl Bloomer Skirt". It fits, don't you think?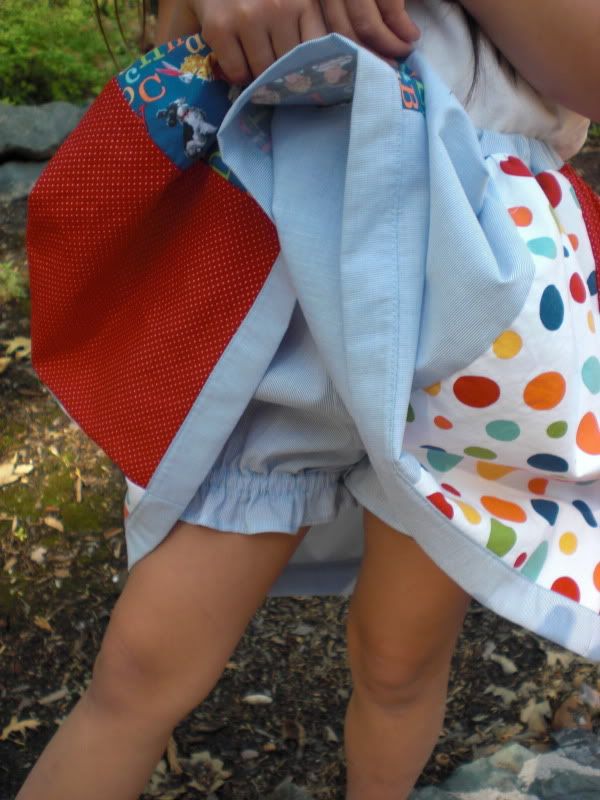 Ahnalin insisted that there must be an upside down picture so you can see how the bloomers are attached. When we take the shots for the final pattern, we will take some pictures of her hanging from her beloved monkey bars.
I am running a little slower than I had hoped on getting the first draft finished. It will have to wait until next week to get done though. This afternoon, we are taking the girls over to my parents house in Nevada for a few days. Don has a gig in Monterey at the
aquarium
and they are putting us up in a hotel right on Cannery Row! That means that Mommy and Daddy are getting a little get-a-way!! WOOHOO!! This is very, very rare, and, my dears, I am going to walk on the beach with my Hot Rockin' Hubby!
We will be back in town late Friday night and then on Saturday night, July 4th, the
Denny Russell Band
will be playing at the Rockin' Rodeo in Sacramento. And then on Sunday, we will to up to Tahoe and walk around a bit before driving to my parent's house and picking up the girls again. So it will be a lot of driving, but it will also be a few days of real time with my hubby, grown up conversations, good music, ocean air and mountain air, hopefully some sleeping in, and maybe a Starbucks coffee.
When I get back, I will finish the pattern and contact people interested in testing. I will choose 1 person per size, so I can get feedback on all sizes.
Thank you all for the encouraging comments and great ideas! I am excited!!