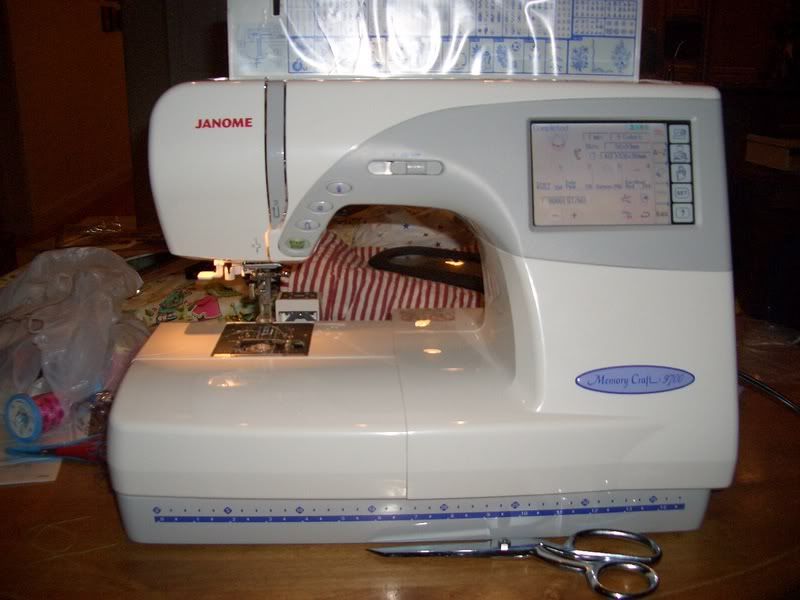 This month is Sewing Machine Month at
Sew, Mama, Sew
and I wanted to jump on the band wagon and answer the questions just like some of my favorite bloggers.
So..here goes!
What brand and model do you have?
My main machine is a Janome Memory Craft 9700, though I also have a wonderful, and much loved, though retired Bernina 910, and two sergers.

How long have you had it?
I received it two years ago for my 40th birthday from my husband, after I could not revive the Bernina yet again.
How much does that machine cost (approximately)?
I can't quite remember but I believe it was around $2000.00 However, I will add that I won the Bernina back in 1985 for winning the Oregon division of the "Make It Yourself With Wool" competition. Yes, I am bragging.
What types of things do you sew (i.e. quilting, clothing, handbags, home dec projects, etc.?
I mostly sew clothing, though sometimes home dec and bags to.
How much do you sew? How much wear and tear does the machine get?
I sew almost every day. I am pretty careful with my machines, but when you sew a lot, stuff happens. I have never dropped the Janome, but each of my other machines have been dropped, and moved several times. Not to mention that I have sewn my fingers a few times, breaking needles in the process. That can't be good for the machine......or my fingers for that matter.
Do you like/love/hate your machine? Are you ambivalent? Passionate? Does she have a name?
I love my machine! She does not have a name though she is most definitely a "she". I have not named any of my machines, which is kind of weird because I do talk to them while I am working. So I supposed I should name something that I converse with, dontcha think?
I had really wanted another Bernina, because my old 910 was so faithful. She was almost an extension of my body as we knew each other so well from so many years of sewing together. But there was no way I could justify spending $8500.00 on anything that could not drive on the freeway or save a life. My dad had researched sewing machines when my mom was looking to replace her old Elna. He found the reviews on Janome and was sold. I used my mom's Janome when I went to visit and fell in love with the ease of the buttonholes! Yep, I became unfaithful to my Bernina over a buttonhole! But then when I saw how simple the machine switches into embroidery mode, I was completely infatuated. It has been true love ever since.
What features does your machine have that work well for you?
Well, as I stated above, I love the buttonhole feature. It is so easy and works so well. And again, the embroidery function is really great. The machine has a color computer screen for it's functions, and all you have to do is switch modes on the screen. Easy Peasy!
Is there anything that drives you nuts about your machine?
Sometimes, after I have been sewing for several hours, the screen will freeze up and I have to turn it off to unlock it. It works great, and unlocks right away. But that is usually late at night when I have been sewing too long anyway, and need to go to bed. So.....I tell her (the machine) that she is being bossy, and I go to bed.

Do you have a great story to share about your machine (i.e., Found it under the Christmas tree? Dropped it on the kitchen floor? Sewed your fingernail to your zipper?, Got it from your Great Grandma?, etc.!)? We want to hear it!
Well I already told how I got my Bernina winning a sewing competition when I was 18. But another great story is when I got some very thick, triple pleated curtains with black out lining stuck in the Bernina on Christmas Eve several years ago. I had a client who wanted them that day, and since I was leaving to go out of town after the Christmas Eve services, I wanted to get paid, so I agreed. Well, since the curtains were too thick for the machine to tack the pleats, I decided to hand sew the pleats. But my needle would not go through. So, me being the uber-smart girl I am on some occasions, decided to pull the needle out with my teeth! DON"T DO THIS AT HOME!!!! Uh..yeah, the needle broke off in my mouth and I swallowed it. Not good! I ended up in the hospital where the doctors tried to track it leaving my system, so that it would not puncture something internally causing me to bleed to death. That had truly not occurred to me when I put the needle in my mouth. Really. And I had to sing at the late Christmas Eve service and then we were to leave for California afterwards. So...after several hours and way too many X-rays and ultrasounds, I checked myself out of the hospital, after having signed a gazillion forms in the presence of the hospital attorney, swearing I would not sue them if the needle punctured something. UGH! I am fine all these years later, and curtains did get to the client on time.
Would you recommend the machine to others? Why?
Yes! I would definitely recommend either of my machines to others and have many times. The janome is a well priced, sturdy machine that does way more than I need it to do. Also presser feet are very economical and so is service.

What factors do you think are important to consider when looking for a new machine?
While some things vary, I think you really need to know what you are looking for and then do your research. I wanted a good stitch and a GREAT buttonhole. I wanted to be able to open the box and be sewing right away, and I was. I did not take the lessons at the dealer and have not had any problems understanding this machine. I think it is important to read reviews on machines and make an informed decision. You do not necessarily have to go for the BIG names to get a quality machine, though it is really tempting. I also think it is good to buy locally, because it is important to have good service available to you.

Do you have a dream machine?
You know, someday if I had a bucket full of money and no place it had to go, I may go for that new Bernina. But I kind of doubt it. I am really happy with my Janome.