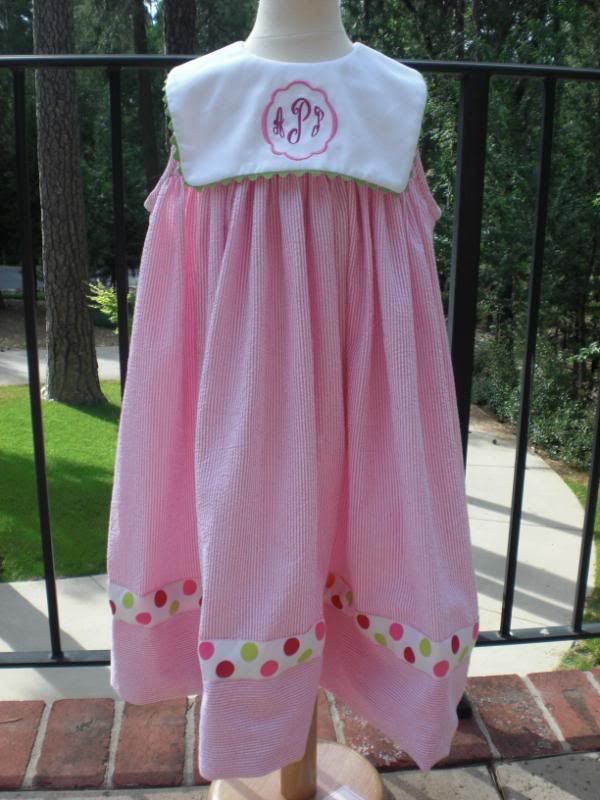 Yes, last night Ahnalin graduated from preschool. Neither she nor I were ready for this. She struggles with transitions and wants to stay in preschool forever.
So, she was NOT excited about her graduation.
However she WAS excited about something that happened earlier in the day. She got to have a visit to her dentist office to get her teeth cleaned. WOOHOO! So far she loves her dentist. I am praying this continues, though, as she has several appts. coming up to work on her very weak teeth. Like many post-institutionalized, internationally adopted children, Ahnalin more than likely had poor prenatal care, and possibly suffered from a lack of nutrition early in life. This can lead to weak teeth. While they are beautiful, and pearly white in front, all 8 of her molars have cavities and need help. She is already complaining of sensitivity to cold things, and her teeth are hurting. Thankfully, we now have dental insurance for the girls through Healthy Families, and are able to get the work done. Please pray for our girl over the next month, while we have many appts. to the dentist.
The only thing that did excite Ahnalin about her preschool graduation was her new dress. Ahnalin chose this style from a catalog we receive in the mail, and asked me to copy it. No problem because I am a Wonder Mommy, right? Heehee!
Ahnalin chose pink and white seersucker stripe and this polka dot ribbon out of my stash. I ended up having to go buy more, but I am still claiming it as a stash outfit! (my story and I am stickin' to it!) . I picked up the dot colors in the ricrac and monogram embroidary. She loves it!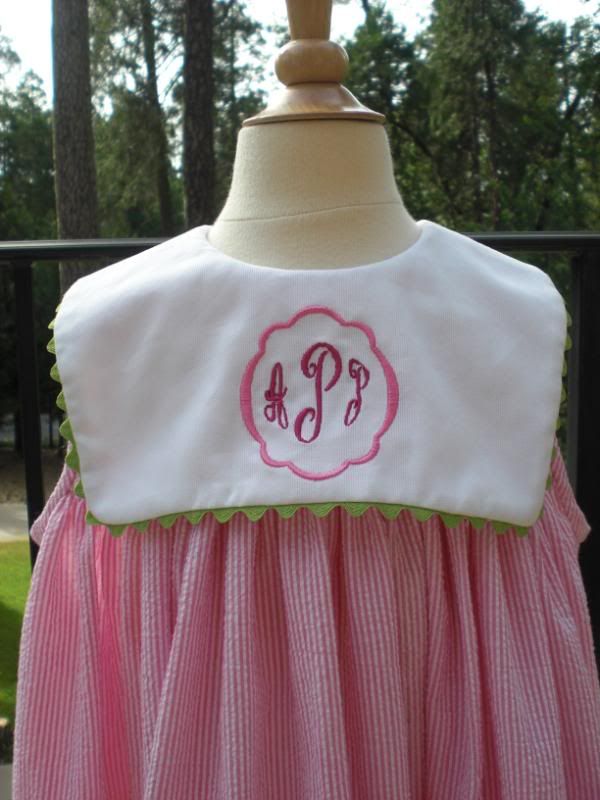 This is the back view of the dress collar. There are also 2 buttons closing the back of the dress under the collar.
To add interest, as well as "twirlability", I rotated the stripes for the hem and then added this great ribbon. I love it too!
I made self-bias for the sleeve openings. I love how the stripe looks this way. I love every seam covered and concealed, so I did french seams on the inside. Didn't take a pic of that, but should have.
But on to the graduation.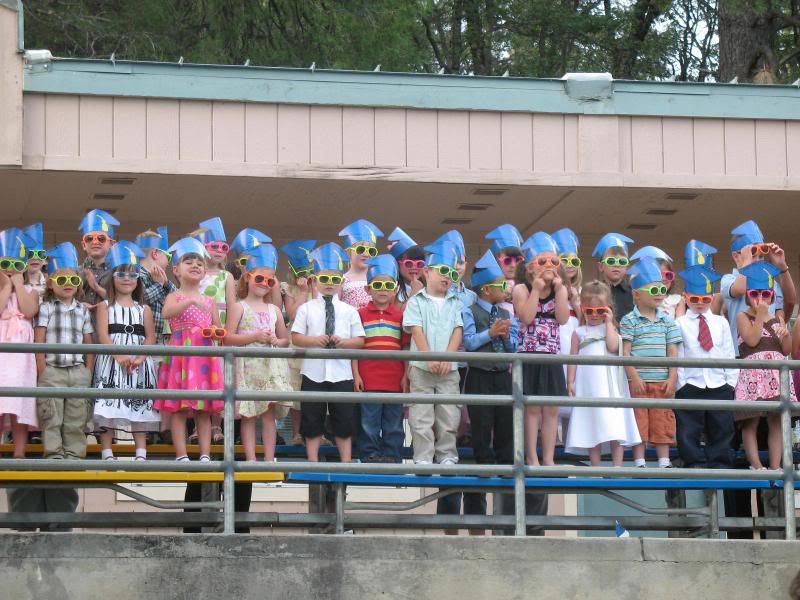 Ahnalin and her classmates sang 3 songs. My favorite was called "Skat" and actually had the kids skatting! As a former jazz girl married to a guy with a masters degree in jazz, we both heartily approved of our precious girl learning to skat at the ripe old age of 4! Yes, our girl got an awesome education at Union Hill Bearcats!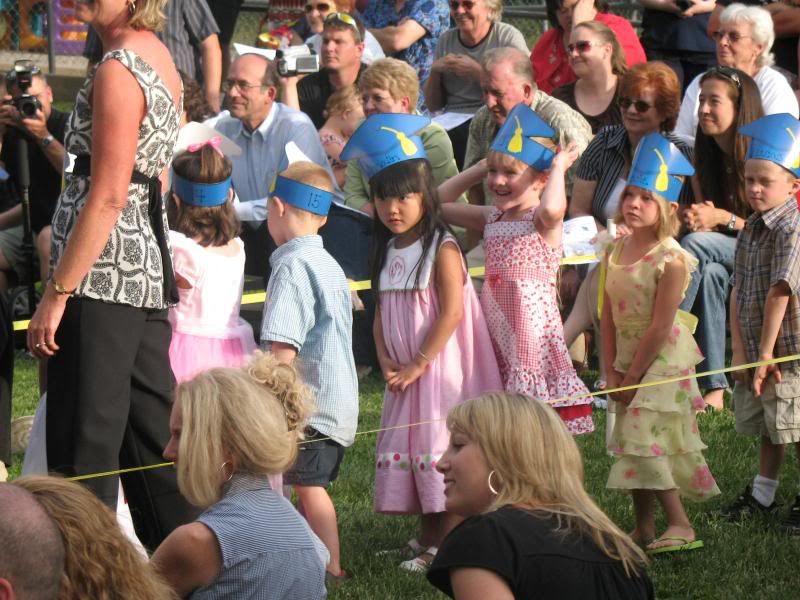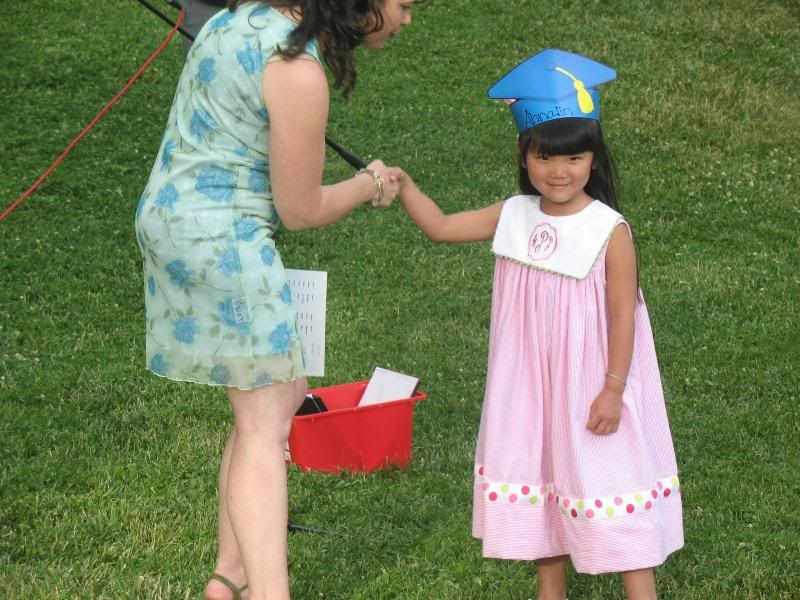 Each child was introduced by their name and "Future..."
Ahnalin was introduced as "Future ballerina, Ahnalin." No surprise there. We laughed at how many future princesses, Batmen, and Wolverines were introduced. However we laughed the most when "Future medium guy with a hundred kids" was introduced! Hilarious!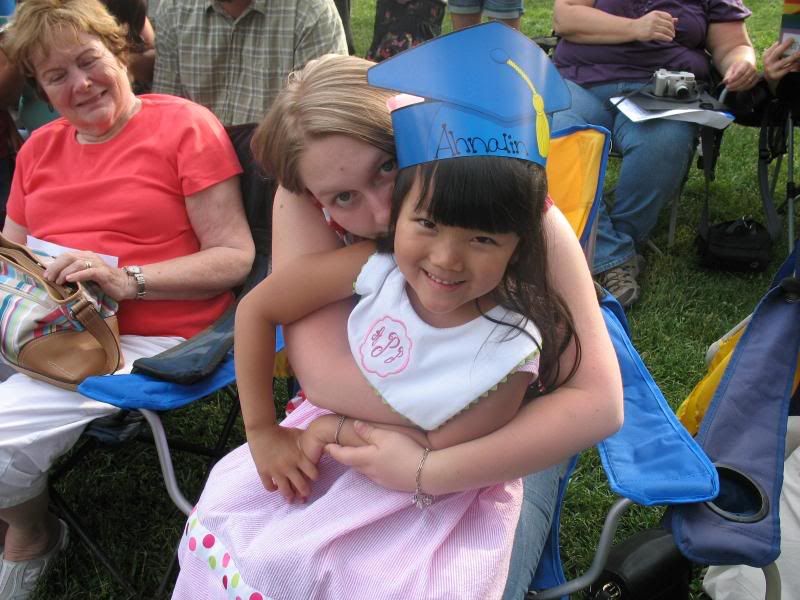 Ahnalin LOVES her preschool teachers Harmony, Debbie, and Chelci, and is sad to leave them. We love them too. They have been wonderful to our girl this year.
Congratulations my sweet girl on a fabulous first year of school. We are so proud of you!