Ahnalin has taken to designing her dresses! She loves to "shop" in my stash of fabrics and tell me exactly how she wants things. Sometimes they are winners, and sometimes they are, ahem, shall we say "interesting". The winners are first, and then, uh........well, let's just say that she loves the other outfit even if I may never again own up to sewing the pink and purple outfit. I may have to make that one up again in different fabric to try to redeem it in my mind. But, again, she loves it.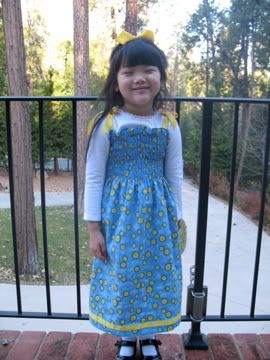 This little simple shirred dress can be worn as a sundress or with a top like Ahnalin is wearing here. I can make it in many different fabrics and have many on hand. Or I can make it in your choice of fabrics. It can be made with matching ties or ribbon as shown here. This dress in a variety of fabrics will be $30.00 for up to a size 5. Sizes 5 and above will be $40.00. Ahnalin is calling this her "First Day of Spring" dress.
This dress is a darling sundress or jumper with a surprise. In the front, it is a simple button front dress with pockets. In the back! Wow! There is a three ruffle bustle with a sash tie. The flounces are so springy and fun. Depending on fabric this dress can be fun or elegant. Ahnalin picked these fabrics out of my stash but this can be made up in a lovely floral, a fun, funky print, or even a solid white with a contrast sash.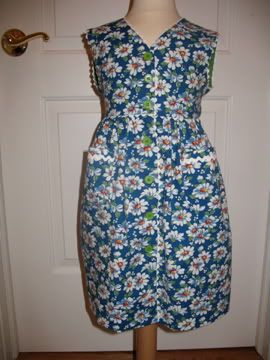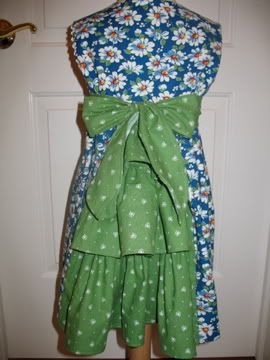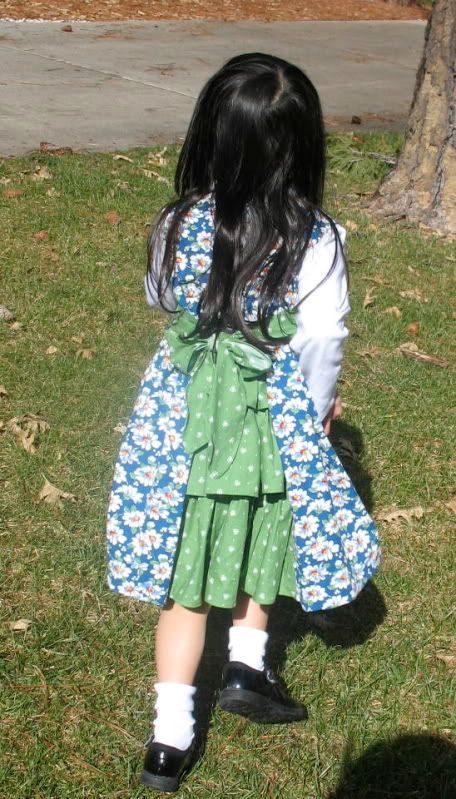 Please pardon my head in the bottom of this picture. I can sew, but not take good photos.
This dress can be made in sizes 3-8 and in a variety of fabrics. Contact me to discuss fabrics and price.
And last but not least, Ahnalin's favorite and my least favorite. But in her mind it is perfect! It is lilac and pink, has rickrack and pockets, and a bird on it! (YIKES!)