Sunday night was supposed to be
the first night for India to sleep
in her apartment.
I will be very honest and say that I was
dreading leaving here there.
So during the fireworks show at Disneyland,
I was thrilled when I received a text message
from her roommate.
She said that she was spending her last night
at her mom's hotel room.
I was NOT going to let India
sleep in her apartment alone!
I mean, she is STILL my baby!
So, we took her back to Jana's to stay
with us.
Monday, we went to Walmart
and stocked her up on healthy groceries.
You know.....carrots, apples, milk, cheese....
Mac and cheese, Cocoa Pebbles,
Top Ramen, Chef Boyardee Ravioli, etc.
She is, after all, a college student!
We went back to her apartment
and unloaded her groceries.
I hugged her about a million times,
trying desperately not to cry.
India needed to take a shower and get beautiful
for the Welcome Party.
Jana saw that I was having a hard time leaving.
So, she said
"Time to rip the bandaid off, Mom!"
Translation:
It is going to hurt either way,
so it is best to just say goodbye and go.
So, we took a last picture,
and India walked us out to the car.
And we left.
Ahnalin and I cried.
We drove back to Jana's and
she treated us to a yummy dinner
of Mexican food.
She is experienced with having
a grown-up-on-her-own daughter,
so she helped me to calm down.
Then we went back to her house,
packed up and set alarms for our early wake-up.
We had to catch the Amtrak bus at 5:45
Tuesday morning,
so we would be able to catch the train in Bakersfield.
Ahnalin was pretty sleepy and very quiet,
for the first few hours.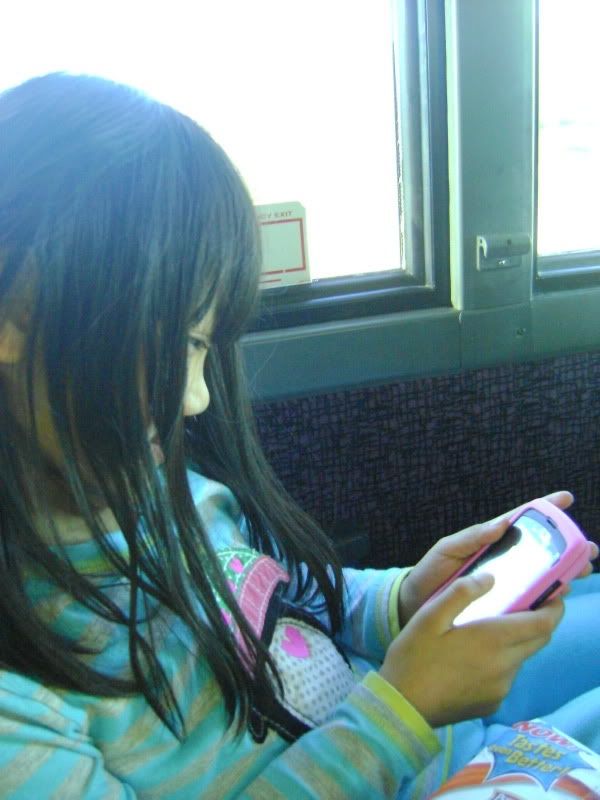 Then she played Mahjong on my phone for awhile.
Then, she WOKE UP!!!


So, every time the bus or train stopped
at a new station,
I made her get out and
RUN!!!


And RUN!


Capes are magical for running and flying!

After nearly 12 hours on buses and trains,
we arrived home in Santa Rosa.

Daddy picked us up at the station
and
took us out to dinner,
where Ahnalin fell asleep!

We got her home
and put her to bed
because the next morning,
she was to start her NEW SCHOOL!


I had asked her if she wanted me to make her a new dress
for her first day at her new school.


She said no.

She wanted to wear
the dress I made her for her first day of first grade.


We waited with her.

The bell rang.

And there she went!

She loves her new school.

And now,

I have to get used to a
new "normal".

Hopefully, I will get some sewing done now!

I have talked to India several times.

She is doing well and
loving the program.

She has been homesick and I have
been missing her so much.

If you have a prayer to spare,
please pray that God would
keep her healthy.

Pray that she would grow in grace
and wisdom.

Thank you so much.
Hopefully there will be sewing in my next post!