I just spent the last two days on a retreat with Ahnalin at our family's second home. It is a large compound, built into the hillside in the Sierra Foothills, overlooking a lovely vista. This getaway is more commonly referred to as "Sierra Nevada Memorial Hospital".
And while the staff was wonderful, friendly, kind and caring, it was NOT a fun visit.
Ahnalin, aka "Monkey Girl", was swinging from her beloved Monkey Bars at Kindergarten on Thursday morning. Mind you, she LOVES the monkey bars and is very good at them. But somehow, she lost her grip, and fell. The school called and said to come quickly, as they pretty much knew it was broken.
Thankfully, it was not a compound fracture, and there were no bones sticking through the skin, but it was definitely turning a the wrong angle, and had another bump that looked pretty ominous.
My friend Kim Adams, who works at the school, not only carried Ahnalin to her office, but stayed with her, comforting her and holding her arm, and then drove us to the hospital. Thank you Kim! I am so grateful!
When we arrived at the hospital, the Triage caregiver took the carseat out of the van, with Ahnalin still buckled in and put them both on a wheelchair. Her feeling was that the arm was so unstable, that the carseat was providing a splint of sorts. She rushed us through intake and got Ahnalin into a room very quickly. Ahnalin and her carseat were put directly on a bed where two nurses assessed her needs and called for X-Rays. They determined that she needed an I.V. right away and got her started on paid meds. If I remember correctly, around a dozen X-Rays were taken to get the best view of the break. We saw the films and, I have to admit, I had never seen a break so bad, but then I am not a doctor. The X-Ray told a far worse story than could be seen from the outside.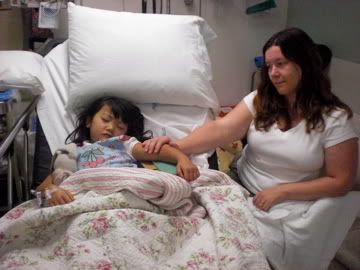 Ahnalin wanted me to hold my hand on the broken part because the pressure made it feel better. We later found out why.
Papa brought India over after school, but Ahnalin was already in "morphine land". So I snapped a pic to show Ahnalin later when she was missing her sister.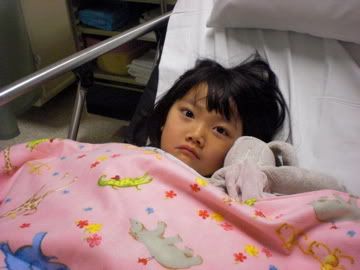 After one of the many X-Ray session, the techs brought this darling blanket to my girl, donated by
Project Linus
. They thought it was perfect for our girl because there were monkeys and giraffes and lots of flowers, and most of all, PINK! To all my sewing buddies out there, if you donate blankets to Project Linus, thank you! If you are looking for a wonderful reason to sew, that will impact a child who really needs a blanket, this is your project. These blankets are so appreciated.
"What is Don doing?", you may ask. Well, funny story....NO REALLY!
Ok, deep breath before I embarrass myself here.....
PHEW........
Ok, as I was leaning over to tuck Ahnalin's new blanket around her, the front of my capri pants SPLIT OPEN!!!!! And it was NOT ON A SEAM!!! NO WAY!!! OH! MY! GOSH!
SO the friendly nurses brought me a one of those lovely, lovely big hot blankets from the blanket heater. Woohoo! Don had just left to go get a few things for Ahnalin and for me since we had been told about the upcoming surgery and the need to spend the night. So I called him and asked him to bring me some pants from home.
By the time he arrived, I had already undressed Ahnalin and gotten her surgery gown on her. The cherry jumper came off easily, but I had to cut the blouse off of her. When he handed me the pants, I changed and then threw both the ruined pants and the cut up blouse in the trash. But then I grabbed them both back out the trash and decided to salvage the buttons from them! Reduce! Recycle! Reuse!
So, Don decided that he would do that for me since I was starting to shake from hunger and nerves at this point, and he was afraid I would stab myself with the scissors. My hero!
At this point, the pre-op nurse came to take us into the prep room to get ready for the anesthesiologist. I was very nervy at this point because my baby was going under and I had no idea how she would respond. Things have been going better with her PTSD and I did not want a regression, and I had no idea how she would deal with anesthesiology. And the surgeon kept asking me about her family medical history. I explained that we did not have it because she was adopted from China and her background was unknown. He did not believe me. It was frustrating to say the least.
But eventually, they wheeled her out the door into the operating room and Don and I were given a beeper and sent to the waiting room. We got some dinner and waited...
That beeper was scary! When it went off, it was super loud and urgent sounding. So we ran back to the OR waiting room and no one was there. I was concerned, to say the least. But after a few minutes, the OR nurse came to get me to be with my girl as she came out of the anesthesia. She was hurting really badly. She had plenty of morphine but the surgeons said that they had to really manipulate all the bone chips and fragments back into place. Several steel pins were put into the bones to hold them together and then a temporary cast was put on. The surgeon explained how the surgery could possibly go wrong, and then sent us up to the surgery floor to spend the night.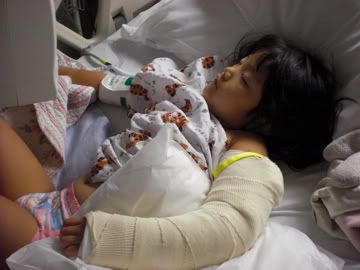 Ahnalin was pretty aware of her cast and was in very deep pain. It was so hard to know that I could not take that pain away. Knowing that the next several weeks were going to be hard on her was even sadder. Ahnalin will have to be out of Ballet for 8 weeks, not ride her bike, not jump on her mini trampoline, not play on the monkey bars and not start her flute lessons. She would have to play gently for 8 weeks. I am not sure how this is going to work since she has SO MUCH ENERGY most of the time.
Anyway, a little bit later, Dida, Nana, and Papa arrived and then Dida stayed so I could go get a shower. Don brought me back later and the nurses brought a cot for me. I was so grateful for that, because every other time I have spent the night in the hospital with the kids, I have slept in an upright chair.
At 2:30AM, Ahnalin's I.V. went bad. The very sweet nurse was unable to get another one in. Ahnalin has very, very small veins and her PTSD kicks in really badly with those kinds of things. So we had a hard time getting Ahnalin pain meds after that. Every other pain med they had, had red food dye in it. Why???? I never understand that. But a solution was finally found and we were able to get about 2 hours of sleep.
A few hours later the doctor came to visit us and released Ahnalin to come home. He was pleased with what he saw! Hallelujah!
Daddy came back to bring us home. YAY!! Ahnalin got to ride in a wheelchair! But I forgot to take a picture of that.
After we got home, Ahnalin was tucked in, on the sofa, given ice cream, and handed the remote controls. She is being very "tiny" because she feels so badly. Her arm is itching terribly under the cast but there is nothing we can do about that.
A friend brought us yummy dinner, and we are now settled in for the night.
In the morning, she will help me design a really cool, girly sling. Pictures coming of that.
Edited to add that the reason Ahnalin wanted pressure on her arm was that she felt the bones were "floating away". She could feel the pieces sticking out and thought that if I did not hold it down, the bones would float out of her arm. This made me really sad.

We would appreciate any prayers you could send our way. This break is very tricky and we are praying that the elbow will function properly again. Please pray that the pain will be minimal and that God will protect us from infection.
Much love to you all.
Sivje