Tuesday
was a big day for Ahnalin!!!
She got to celebrate Chinese New Year
with her kindergarten class!
We got to bring snack for the class.
We brought Mandarin Oranges, which are actually grown locally, and so delicious.
We also brought locally baked Fortune Cookies
Of course, Fortune Cookies were originally made in San Francisco,
not China. But we had to include them anyway.
Another kindergarten mom picked up rice and chopsticks that were
donated by a local Chinese restaurant.
She also brought those yummy almond cookies, but since they have
both corn syrup and red dye, Ahnalin could not have them.
Instead, her friend Reagan shared some of her sesame candy.
Notice Ahnalin's hair.
We tried to make it look like Kai Lan's hair but it looks wonky now.
It was fun watching the kids try chopsticks.
Ahnalin used to handle chopsticks like a pro,
but we do not eat Chinese food often enough anymore for her
to stay in practice.
We got to share about Ahnalin's name.
This is a calligraphy that Ahnalin's grandfather had made
for her in San Francisco. She is very proud of it.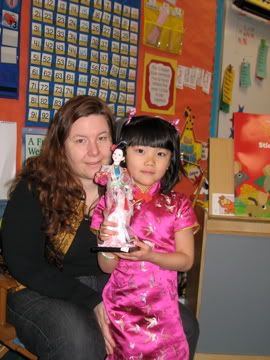 Ahnalin loves the doll that we bought for her at the Forbidden City.
You can really see it, but the doll's jacket is the same
fabric as that of Ahnalin's "Qipao".
We bought the doll before we adopted Ahnalin, but had
the dress made a few days later, in a different city.
This dress us a size 2 and still fits her around.
But the slits in the side are way too high up now and the
dress is no longer full length.
So I had to make her some new black leggings to wear underneath it.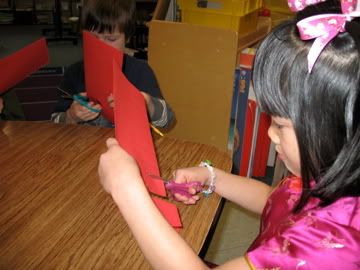 The children cut out red paper lanterns and covered them with
glitter!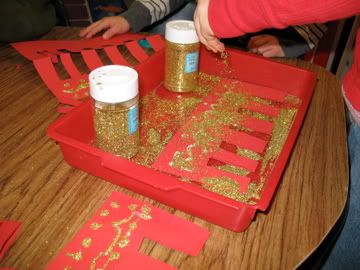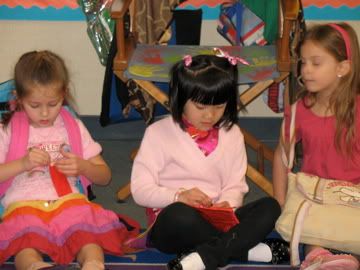 Later, Ahnalin passed out Lai See, which are
the traditional red envelopes with
lucky pennies inside.
And to finish out a lovely day at kindergarten
I read our favorite "China Book" to the class.
Ruby's Wish
If you have not read this book, I highly recommend it.
Ahnalin was very proud to share with class.
So proud that I discovered this yesterday when I downloaded the pics from the camera.
She had hijacked the camera while her sister was baby sitting her.
Don and I were at rehearsal and had no idea what was happening at home.
I actually found 5 different takes of this, so Ahnalin must have
done it several times. In each one, she is stuffing her mouth with fortune cookies!
I truly wonder what India was doing at the time since Ahnalin was busy with the camera
for quite a while. Hilarious!!!
YIKES!!
Enjoy!