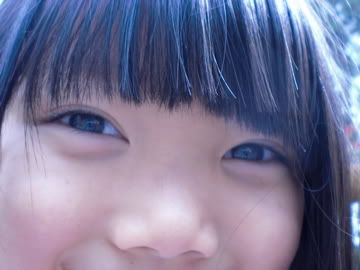 When Ahnalin picked out her fabric for her very girly sling, she also requested a dress to match. She loves this dress pattern
"Teatime Dress & Coat" by Indygo Junction
for it's extreme "twirlability". And I liked her idea because the dress is easy to get in and out of, important when your daughter is sporting one the most ginormous arm casts in the country.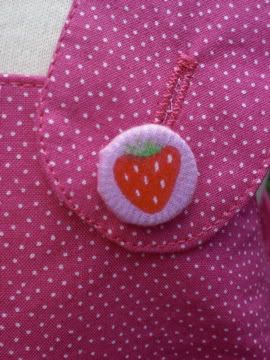 While I actually refrained from the use of rickrack on this dress, and could not do any machine embroidery, I did make some covered buttons using the little printed strawberries from the Strawberry Shortcake fabric. I love covered buttons!
Ahnalin was blessed with some nice gifts from her friends and one of those gifts was cozy stuffed dog named
"Owie Bow Wowie"
from my friend Melody. Ahnalin and "Owie" hit it off right away, as Owie has scars and a cast on, which made Ahnalin feel more comfortable. These special puppies are made to give to children in hospitals with major medical conditions. Ahnalin's surgery is minor compared to many of the children who receive these darling doggies. But this great organization is a blessing. If you are wanting to donate to a cause that truly blesses children, click on the link above and see how you can help.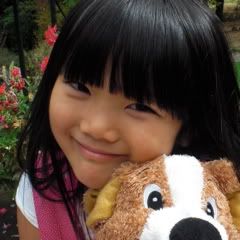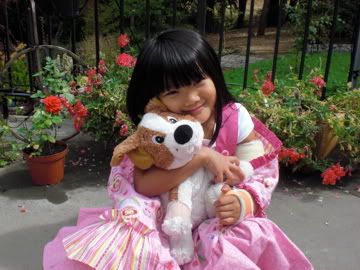 I am so happy to see our girl really smiling again. We have a long way to go with her arm, but she is smiling and God is good. Thank you for the prayers, and please keep them coming.