Ahnalin loves to look through the pattern catalogs
when we go to the fabric store.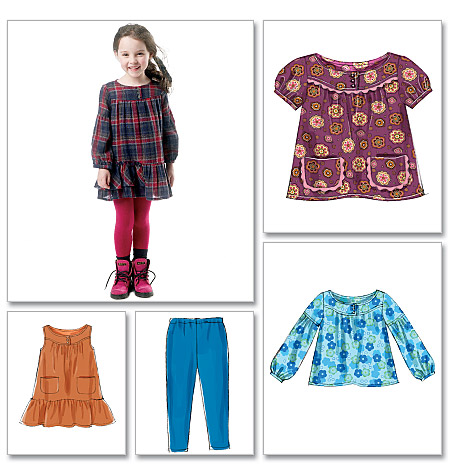 She fell in LOVE
and just begged me to sew it for her.
In fact,
in true Ahnalin fashion,
she told me about the fabrics
in my stash that she thought would be perfect!

This is the first combo she wanted.
I can't remember where I
found this patchwork cotton
lycra knit in the first place,
but Ahnalin has had her eye on it for quite
some time.
And this "Paper Snowflake"
corduroy is from Sandi Henderson's
"Meadowsweet" line for Michael Miller.
We added the blue rick rack to coordinate
with the legging fabric.
And Ahnalin chose the buttons too.
I think my favorite part about this pattern
is the sleeves.
The pattern actually shows gathers
but I wanted to make pleats instead.

I made them the size 8 in length
and size 6 in width.

I didn't actually measure the pattern
pieces on her this time,
because sleeves are ALWAYS too short
on her.

Not this time!


And of course,
there are pockets!!

And they are trimmed with rick rack!


I had to add 4 inches in length to the
legging pattern!

I cut the size 6 in width
and size 8 in length PLUS 4 inches
and they are the right length for now.

We found these darling
hot pink and orange shoes
at Target and added
white eyelet trimmed socks too.


I really wish I had purchased the smaller
size pattern because
I think a size 4 in width would
fit her much better than the 6.


She is SKINNY and
this pattern is roomy!


But she loves it.

It is a cozy outfit.

By the way,
she insisted I take a picture
of her eating her favorite
Jo-Jos cookies.

Ok.


Like I said,
she loves the outfit!

She has already chosen the next
fabric combo
for the same pattern.


And of course,
we need a little "Classic Ahnalin".


So, what am I working on now?



Well, I was invited to a lunch and craft party
with women from our new church,
so I pleated up this "Henna Garden"
from my stash.

I am attempting to smock again and praying my
hands don't scream too badly.

I do miss smocking so much!

And I am also working on
a new slipcover for my sofa.

Yeah, photos to come when I have some
to show for myself!

Thank you for your prayers for India.

She is soldiering on,
and very tired of her giant splint on
her foot.

Her blood sugars FINALLY stabilized
and she started back to college
on Tuesday.

And guess what!!

She is taking costuming classes!!!


Thank you for your prayers for our family.

If I can so boldly make one more request,
it would be prayer for a closer
full time job for Don.

In addition to his job as music director
for our church,
he works full time as an audio and
acoustical engineer.
He commutes 3-4 hours every day
to work.
We are so so so grateful for the jobs,
but he is exhausted all the time

I am so blessed to have a loving,
committed, and godly husband,
who sacrifices daily for us.

Please pray that he can find
a job with benefits closer to home.

Thank you so much for the prayers and encouragement.

Sivje