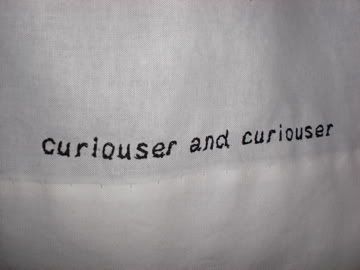 Yes, it is.
India is convinced that she is really the "real" Alice in Wonderland. So, she had to have her own
Alice
costume, well not really costume, more like uniform. And then Ahnalin, who idolizes her beautiful sister in every way, had to have one too.
So, this year, I sewed two complete Alice costumes.
And since I am "ME", these are not just costumes, but completely, neurotically sewn, perfect inside and out, garments. Both of the girls can, and most likely will, wear these as regular dresses, and I know the aprons will be worn many times as well.
And the challenge for me was that I needed to make each outfit completely from my stash.
I took a gazillion pics and will not bore you with them all, but here are some fun details.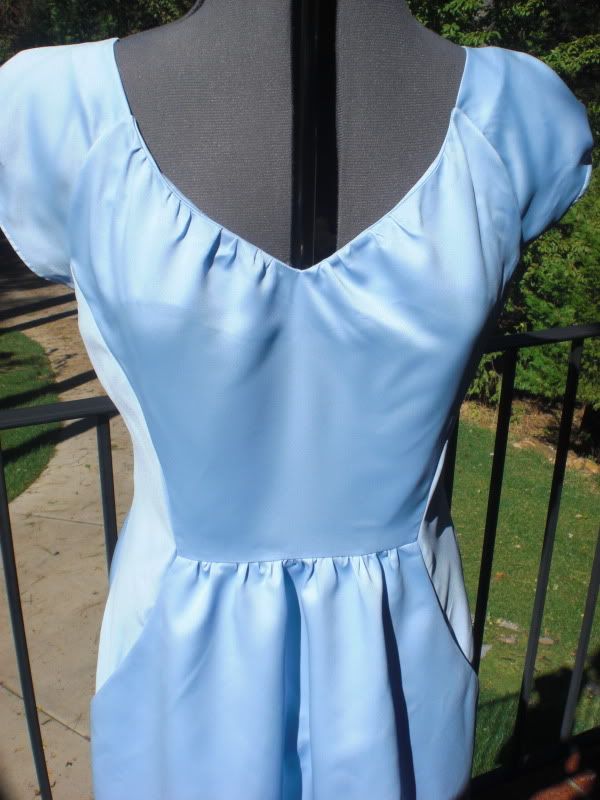 As you may remember, I fell in love with this dress pattern, Simplicity 2591 and decided to use it for India's blue dress. I love the lines on this design, because it has lovely, soft gathers, but is smooth over the hips. This pattern has a rather unique pocket treatment that I plan on making again.
But the neckline is rather wide, so the sleeves sit wider on the shoulder, making the pinafore top of the apron a bit different to draft. So, that is what I did. I just started pinning my fabric onto the dress form to design the pinafore.
The fabric for India's pinafore white Kona cotton, which had almost a linen texture. I used the last bit of my heart eyelet for the trim on the edges of the bodice.
I found these machine embroider designs via Google search.

You can get them
here
. I love these designs! They are from the original illustrations of Alice.
I love the White Rabbit so much!

I tried to get a better closeup of the buttons, but they kept catching a glare. They are little clocks!

I love the apron so much!

Ahnalin's Alice ensemble is more traditional. I used a basic yoke dress and pinafore pattern for hers.

The piping looks wonky on the collar but it just caught the light funny. There are little hearts, spades, clubs and diamonds embroidered on the collar.

Her buttons on the back are little white rabbits.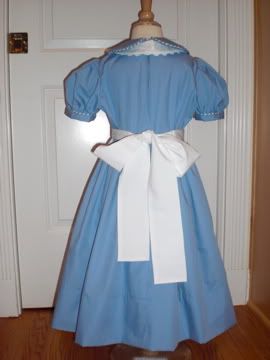 Yes, that is a 5" hem. I wish I had angled the sash ties.

I made a small crinoline for Ahnalin to wear under her costume. I am not sure how long it will last on her. She hates anything itchy, but her vanity demanded fluff. I am sure it will not end up being worn long. I may take it apart and sew in a layer of batiste under the tulle.

The rest of Ahnalin's outfit was made from Imperial Broadcloth. I LOVE that stuff. I am not a fan of polyester, but for clothes that get worn alot, it does save on ironing. So, many of Ahnalin's costumey type clothes get sewn out of it.

Next up..........I will post pics of my lovely Alices!