I have not smocked anything new for a few weeks, so I thought I would post some of my favorites from last year. I need to get smocking for customs and Easter, so there will be new things soon.
This dress was a custom for a darling little girl on her 4th birthday. She loves princesses and was quite the princess in this dress. The smock plate was designed by my friend, and fellow "China Mama", Janet Gilbert. It is a recoloring of the design "Flower Girls" that she created for Sew Beautiful magazine. This dress was so much fun to smock, and now Ahnalin wants one for herself.
I LOVE this dress! Ahnalin picked this out for her 4th birthday and it turned out so lovely. I think I may make her one for her doll as well. I would love to make this dress again.
This is "Enchanted" by "My Treasured Heirlooms". I had the fun of being a pattern tester for this designer. I LOVE this outfit!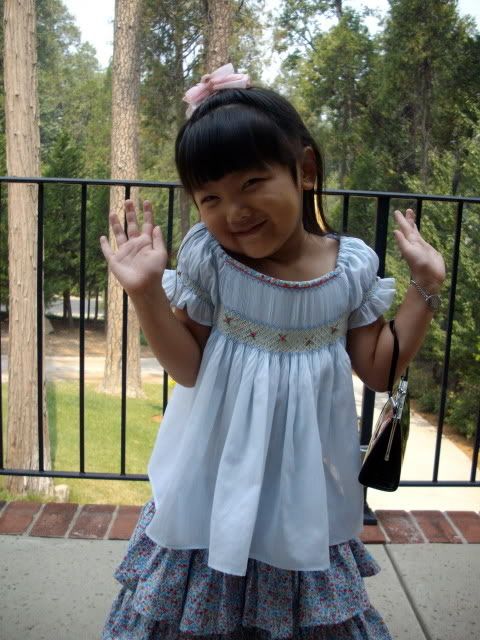 This was Ahnalin's Easter dress. I used the design "Chocolate Bunnies" from Creative Needle magazine. Oh, Ahnalin loves this dress. What a fun design to smock!
I will be posting something new soon. Keep watching!
If anything you see interests you, I would be happy to recreate any of these to your specifactions.