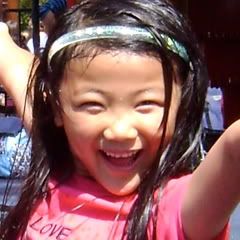 And Ahnalin has been keeping me
so busy that I have not had time
As a treat, Don bought us season passes
this year, to Discover Kingdom in Vallejo.
It used to be called "Marine World, Africa USA"
and we went there on our honeymoon 23 years ago.
Ahnalin is not super keen on all the rides,
but she is CRAZY about all the animals!
She got to pet an elephant there!
They have an indoor butterfly habitat that
is just amazing!
I love the killer whale show.
Her favorite show there is the dolphin show.
In fact, she managed to find some fabric
in my stash with dolphins, killer whales,
and fish printed on it.
Of course, she insisted that she NEEDED
a bloomer skirt out of this fabric!
So, of course I sewed one right up.
She still LOVES her bloomer skirts!
Bloomer Skirts are great for twirling!
Running through splash zones...
And of course, for hanging upside down,
which is what Monkey Girl does best!
I sewed this up using my pattern,