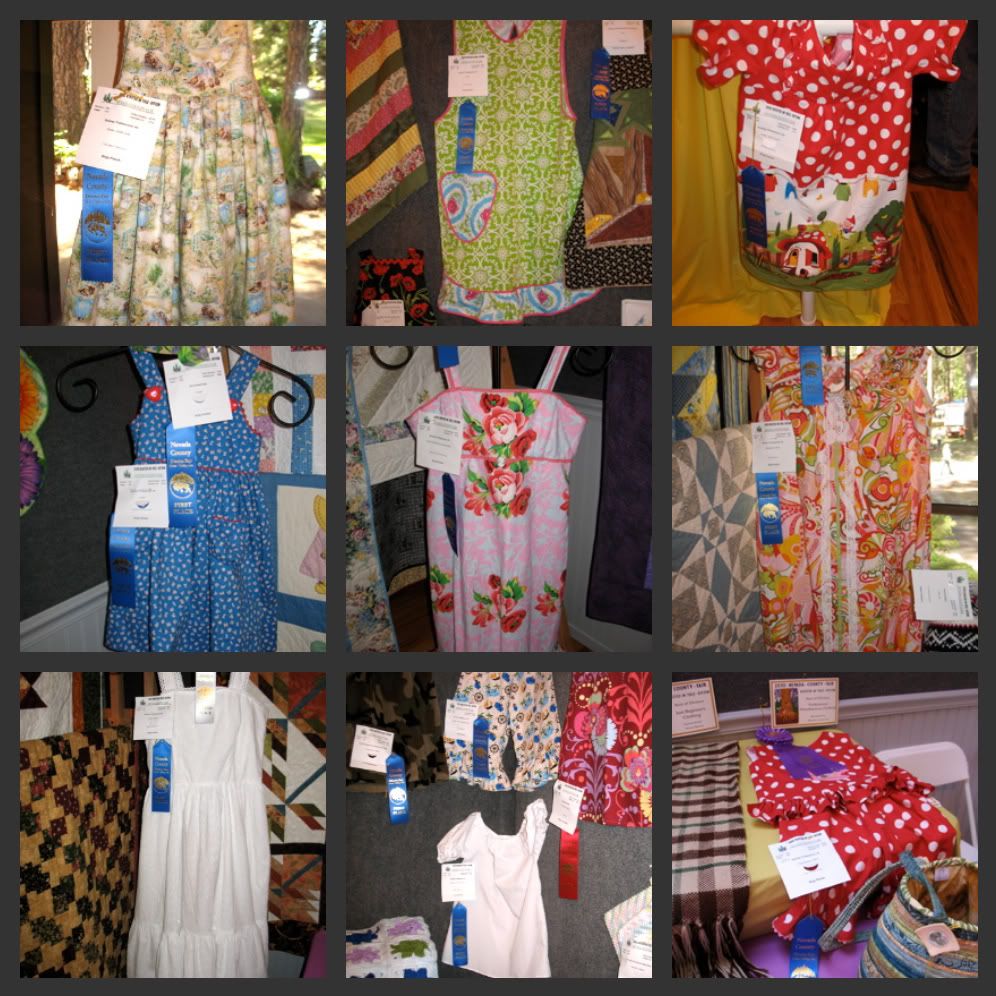 So, here they are!
I have posted each of these items before, so I won't be a pest and
post them all individually this time.
But I entered 14 items in the "professional" division,
and I received 1st place "Blue" ribbons on 10 of them.
I received a 2nd place "Red" ribbon on the Dumbo dress.
And a 3rd place "White" ribbon for the
child size Yaya Apron.
And here is the funny little thing.
I was not going to enter this little doll sized Yaya apron,
but Ahnalin insisted that it needed to be entered.
Well it did not receive a ribbon.
It did not deserve a ribbon, so I was not expecting it.
It is cute, but hey, it took probably 20 minutes to sew!
Oh, and the little Teacup Minnie outfit also received
the "Best of Division" Purple
ribbon and certificate.
The funny thing is that I don't think that outfit deserves
to be the "B.O.D.".
I mean, it is cute and well sewn.
But it is NOT as well sewn as the "Dumbo" dress that won a
2nd place.
Really.
I mean, India's dresses, either of them,
were made MUCH better.
They were flawless inside and out AND had all that
boning (yeah, it is always about the boning...)
And then, I realized something else.....
Oh the shame.....
Oh the scandal!!!
I did not enter ANY smocked items.
But NEITHER DID ANYONE ELSE!!!
There was NOT ONE smocked item in our fair this year!!!!!
I am mortified!
I had better just sit right down and FINISH some
of the UNFINISHED smocking projects I started this year.
So, I am pleased with my ribbons this year.
I am grateful.
But I am disappointed in myself for not entering some
smocked items and for not really showing
some fabulous sewing.
I pretty much entered simple dresses and aprons.
I am capable of better, but I was lazy.
Ok, enough beating myself up here.
I think I will sit down with some orange and chocolate sherbet
and watch last nights "Project Runway" that is
saved on my DVR.
Oh....and if you think of it, please pray for India.
She is in LA tonight preparing to audition for Disneyland tomorrow.
Yeah, really.
She really, really, really wants to work there as a character.
Really.
Thank you all for your kind encouragement.
Ahnalin GLOWED with pride when I read each of your comments about
her ribbons.

Happy Sewing!