Easter is less than a month away!
Which means, unless I plan to hit the stores to purchase Easter clothing for my children (oh perish the thought!) OR dress them in something they have worn before (On Easter? Are you kidding me??),
I had better get some finery in process!
To make this little exercise more interesting,
And so I am doing my best to not spend any money
that I don't have to spend right now.
And did I mention that I have a perfectly ridiculous stash?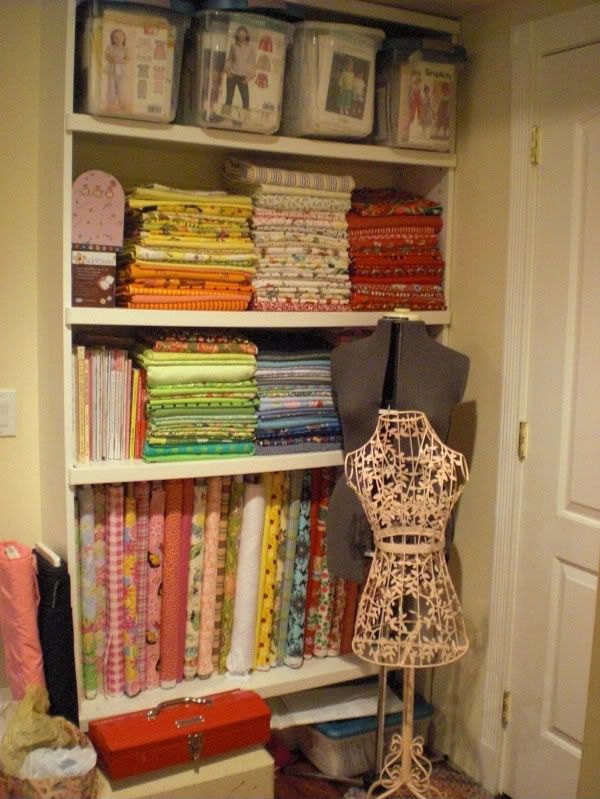 (Let's just pretend this is the entirety of my stash,
since I am not going to show you what is in the pie safe or under the cutting table)
Here is something strange about me.
I tend to purchase fabrics and then
I have to let them "age" a while.
Or as my hubby would say,
" Let them rest until they develop a fine patina"
Weird, I know.
I almost never sew the new fabrics when they are brand new.
I seem to stare at them, pet them, dream about them,
and then build up a terrible fear of cutting into them!
I really have some lovely fabrics!
So, um... I have absolutely no excuse for not creating
gorgeous Easter dresses for India and Ahnalin
Completely Out Of My Stash!

India is 18.

And while she DOES wear costumes,
and dresses with rabbits embroidered on them,
I decided NOT to force that on her for Easter.

So, I let her go "shopping in my stash"
to choose her dress components.

I have a huge number of patterns,
and have no business buying any more right now.
So, she looked through my boxes and chose this:

Vogue 8185 (dated 2006)

The fabric she chose is an older Kaffe Fassett print called
Brocade Floral.

I have been hoarding this fabric for quite some time.


Because of India's swayback, she can be difficult
to fit, especially in a style that does not have a gathered skirt.

So, we made a muslin.

And, as usual, the measurements on the pattern
had no bearing on reality!

She was a full two sizes smaller than the pattern measurements
said she would be.



Do you also see that nasty snow out the window????

Can I tell you how sick I am of snow???????


Thankfully, I was able to work out all the fit issues
with the muslin, so I am hoping to get the dress done tonight.

The boning still has to go into the lining in the bodice.
I am adding a skirt lining, so India will not need to wear a slip in the summer
if she does not want to.

There will be a ruffle and straps too.

India has already asked for another one of these dresses in denim.

So, I hope to show you a finished dress in the morning.


I have not started on Ahnalin's dress yet.

But her dress will be this lovely pink pima cotton batiste
with lace that was given to me by the sweetest,
most talented group of ladies I have ever met.
The pattern I have chosen is
"Susan" by Kay Guiles.

I need to get it pleated and start smocking as time is growing short!


And on another subject,
here is the quilt top I made of the handprints of
children in Ahnalin's kindergarten class.


I am not much of a quilter, so I just did the top
and another lady will do the quilting.


It was hard to get the squares straight and even because so many of the
children, including my own, wrote their names in or very close
to the seam allowance.


The embroidery is not showing up well but it is a
pair of giraffes.
Her class is called the "Gentle Giraffes".

This quilt will be auctioned off at Ahnalin's school fundraiser next month.

So, back to sewing for me.

Hopefully, pictures in the morning of a completed dress for India.

Love to you all, and happy sewing!