Yippee!!!!
Today was Ahnalin's last day of 2nd grade!!!
And I hadn't made her anything new to wear since.......
.........last week!
(Never mind that I wear capri jeans pretty much
every day. Sewing for her is my fun!)
I decided to make my little one a spring outfit
out of this "Memoirs From China" print by Robert Kaufman.
It was sent to me last year by another sewing friend,
Hettie Lynn, because it reminded her of Ahnalin.
I had been saving it for just the right occasion.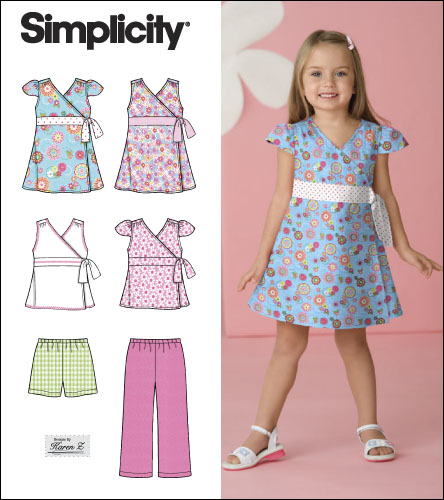 I bought Simplicity 2677 a few years ago,
but had still not tried it.
For this top, I chose view D.
I cut the top in a size 5 with a size 8 in length.
Do you recognize the contrast fabric?
It is the same Michael Miller print
I used for Ahnalin's and Cherish's Christmas dresses.
I just had a few little scraps left,
so it worked perfectly!
And, well, yeah.
Rick Rack
Of course.
The top is actually a faux wrap,
with a zipper and hook and eye in the back.

I really liked this little top.

I will probably use this pattern again.


Ahnalin refuses to wear jeans.
She doesn't like how they fit and
how stiff they are.
But I learned a while ago that she WILL wear
things that I make for her out of old, soft, worn jeans.
So I cut apart a pair of old black jeans.
Reduce! Recycle! Reuse!
There is enough left over to make another jeans
mini skirt for her too!
For the capris,
I used Simplicity 2711.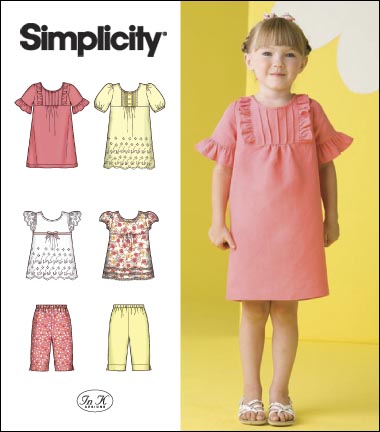 I added the trim on the bottom,
right at the hem line.
I chose this pattern, because
it is a little slimmer than most pants patterns.
I cut a size 4 in width and a size 8 in length.
I have also made the dress in this pattern before and
highly recommend it.
Ahnalin wanted me to take a picture of her climbing up the fence.
But you can also see the cute sandals I found to match!
Ahnalin is also very proud of the strawberries growing in our garden.
Classic!
So my girl wore this on her last day of 2nd grade.
Oh! And last night she reminded me that
she wanted to give her teacher something special.
Her teacher's favorite colors are green and purple
and it had to say
"We Love Mrs. Dyer".
So, I made her a little prayer pillow.
When I am sewing for others,
I pray for them.
My mom used to make prayer pillows
for gifts and it made such an impression on me
growing up, that I now do the same thing.
Ahnalin LOVED being in Mrs. Dyer's class this year.
She was excited that Mrs. Dyer gave her
extra math books to work on FOR FUN this summer!!!
Ahnalin wrote this in class this year,
about her favorite thing!

I am a Mathematician
by Ahnalin
My favorite kind of math is fractions and multiplication.
I like to have a math paper in front of me.
For a whole week we did star testing and it was so much fun.
So summer vacation has officially begun for Ahnalin!
She has big plans for sewing this summer!